Tesla Model S Safest Car Overall? Not So Fast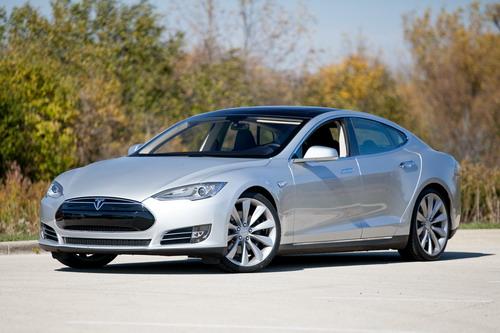 On Aug. 19, Tesla announced it had the safest car in America with the 2013 Model S, which earned the top score, five stars, across six different crash tests from the National Highway Traffic Safety Administration. Just 1% of cars tested earn five stars across all six grades, Tesla said, and the agency's overall vehicle safety score, which automakers receive from the agency, captures a rating above five stars — in this case, 5.4 stars. That makes the Model S the safest car ever tested by NHTSA under its tougher 2011 standards, Tesla said.
The Model S earns an overall vehicle safety score of 0.42 (lower is better), which beats other five-star cars like the Buick Verano (0.5) and Cadillac ATS (0.53) sedans. Tesla says that translates to 5.4 stars. But NHTSA demurred: "NHTSA does not rate vehicles beyond five stars and does not rank or order vehicles within the starred categories," the agency said in a statement to The New York Times. What's more, a number of other cars — from the ATS to the Honda Accord coupe — also get five stars across the board.
Dig into the details, and the stars reflect assessments of specific crash data — the individual readouts from various sensors on a crash-test dummy. Tesla argues, for example, that the Model S beats the Volvo S60 sedan (another car with five NHTSA stars across the board) because it preserved more driver space in NHTSA's side-pole test.
But NHTSA wants the stars to serve as comparison enough. The agency highlighted a bulletin on its homepage with five-star safety ratings guidelines it suggests — but doesn't require — that automakers and their advertising agencies use. In the
16-section release
, NHTSA said it "strongly discourages the use of potentially misleading words such as 'perfect,' 'safest,' 'flawless' or 'best in class' to describe the star rating received by the vehicle."
There's an elephant in the room, too. The Model S has yet to be tested by the privately funded Insurance Institute for Highway Safety, which prioritizes popular sellers over less-popular ones in its testing lineup.
Do any cars tested by the IIHS and NHTSA score top marks across the board? No, but the S60 sedan and the Volvo XC60 SUV come pretty darn close. We coded every car that earned an IIHS Top Safety Pick+ ("Plus"), which means it scored a Good or Acceptable rating on the institute's challenging new small-overlap frontal test plus a Good rating in IIHS' side-impact, roof-strength, rear-impact and moderate-overlap frontal tests. We then indexed those scores against NHTSA's five-star ratings, and here's what you get (click to expand):
It goes to show, incidentally, that umpteen airbags do not a safe car make. Many vehicles with more airbags than either Volvo score worse. And what about the Model S? It could run the tables — if IIHS ever tested it. Tesla said it had requested testing, but Joe Nolan, vice president for vehicle research at IIHS, told The New York Times that the agency has no plans to test the Model S anytime soon.
Of course, existing crash tests don't tell the whole safety story. Tesla claims it tested various crash points not evaluated by NHTSA and made enough reinforcements that the Model S should get a five-star rating no matter where the impact occurs. The automaker also claims the optional third-row rear-facing jump seat is the safest spot in front- or side-impacts. But third-row crash protection isn't publically tested. What's more, existing ratings from NHTSA and IIHS simply report the presence of crash-prevention technologies like electronic stability systems or collision warning systems. They don't evaluate effectiveness — and, as we've seen, not all stability systems are created equal. Automotive News reports (subscription required) that IIHS is working on a $30 million test track to evaluate such systems, but it won't be done until later this year.
So, for now, existing crash tests will have to suffice. As we've heard from safety experts — and agree with — the No. 1 safety feature in any car is the driver.
Related
Airbags for Three-Rows Not Universal
NHTSA Maps Strategies for Driverless-Car Safety
More Safety News