Why Do Lower Trim Levels Use Wheel Covers?
"Why do lower trim levels use wheel covers?"
Henry R., San Francisco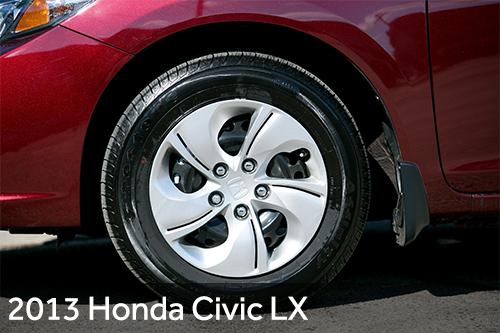 Lower trim levels have plain steel wheels (usually black), and the wheel covers hide this cost-saving move by mimicking the look of aluminum wheels, though with plastic instead of metal. Alloy wheels instead of steel and larger-diameter wheels and tires help differentiate the more expensive price levels and justify their higher prices.
Wheel covers are typically found on the base model of a vehicle line or maybe the lower two price rungs. Here are some examples:
The 2013 Toyota Camry L and LE models have standard 16-inch steel wheels and plastic wheel covers. The higher-priced Camry SE and XLE have 17-inch alloy wheels. On the Hyundai Elantra GLS, 16-inch steel wheels and plastic covers are standard and alloy wheels are optional, but on the Elantra Limited, 17-inch alloy wheels are standard.
With some model lines, including the 2013 Honda Accord, all models have standard alloy wheels, and that is common among luxury brands. You would be hard-pressed to find any model for a luxury brand to have steel wheels and plastic covers.
Have a car question you'd like us to answer? Send us an email at tips@cars.com.
Related
Research the 2013 Toyota Camry
What We Miss in Our 2013 Honda Civic LX
Top 10 Best Base Models