2013 Nissan Sentra: Family Checklist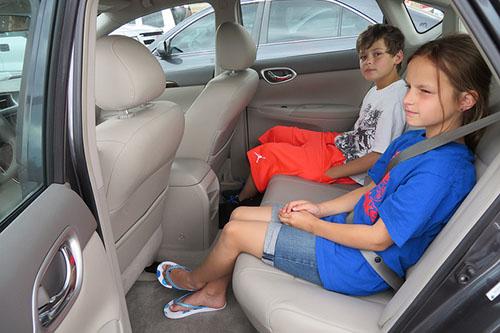 Small sedans seem like they should be a good fit for my family because both my kids are out of child-safety seats, but I've just exchanged car seats for gangly limbs.
In the land of long legs and personal space, rear legroom for the kids is paramount, which is where the 2013 Nissan Sentra treated us right. However, this compact sedan's engine noise drove my whole family a bit crazy.
My test car, a Sentra SL, had a 1.8-liter four-cylinder engine that's paired to a continuously variable automatic transmission, and it made so much noise that my whole family complained about it whenever we went anywhere — not that we could hear each other. The CVT and its loud whine was the source of the noise. Conversation would cease, and if music was desired, the stereo would need to be turned up pretty loud.
The Sentra accelerated well, and I didn't have any issues with steering or braking. It's a standout on fuel economy; it gets an EPA-estimated 30/39/34 mpg city/highway/combined. What family wouldn't be happy to eke out more miles when running errands?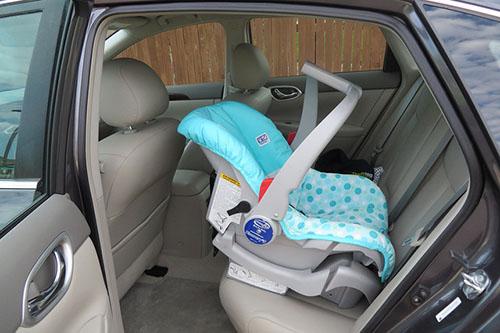 For family hauling, the Sentra had plenty of legroom for me and my children, ages 11 and 8. My 6-foot husband was the exception to the rule. We were still mostly comfortable with him in the front passenger seat, but he couldn't put the seat in his ideal position without squishing whoever was behind him; it no longer works to have my shortest kid sit behind him as a remedy because her legs are getting longer by the grocery trip. Without my husband, we all did fine and were happy with the amount of room we had.
The Sentra's 37.4 inches of rear legroom easily bests the 2013 Honda Civic's 36.2 inches and the 2013 Ford Focus' 33.2. The redesigned 2014 Toyota Corolla has more rear legroom with a whopping 41.4 inches. All that space in the Sentra makes it able to accommodate rear-facing child-safety seats. I did have problems accessing the two sets of lower Latch anchors, though. They were wedged tightly between the seat cushions.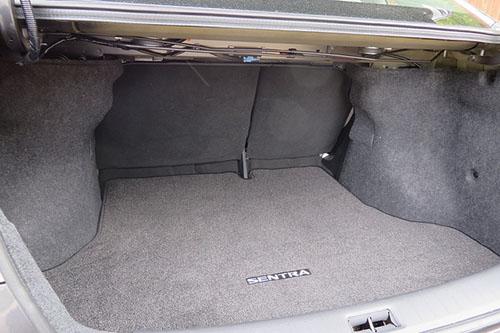 The Sentra handily beats its competitors when it comes to trunk size. At 15.1 cubic feet, it seems mammoth compared to the Civic's 12.5 cubic feet of space, the Focus' 13.2 and the Corolla's 13.0. The Sentra's trunk can fit a small stroller and the bags from a grocery run. Large boxes of diapers or wipes may mess with the space back there, though. However, the 60/40-split folding rear seats can help if you need more cargo room for those.
This is a car that's easy to be in. The controls are laid out in an intuitive fashion, and the leather seats and faux wood trim look good without going over the top.
Nissan definitely got the front cupholders right in the Sentra. There's enough room so lidded drinks don't get hung up on each other, a situation that's hit or miss in Nissan's lineup. Storage cubbies were hit or miss in the Sentra. It has bottleholders in the doors, a small gadget cubby in front of the gearshift and a deep center console. The glove box's depth was dazzling — I could reach back almost up to my elbow. But there were two small ledges in the rear of the center console so rear passengers could house gum? They're still a mystery.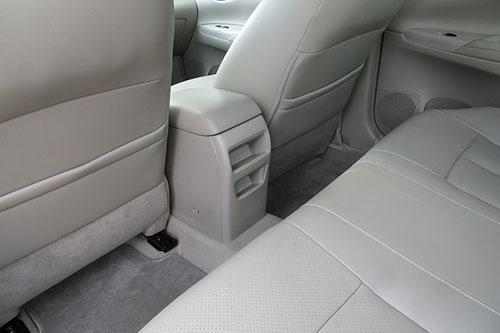 While I liked the Sentra's legroom and larger trunk, I wouldn't recommend it because of all the engine noise. I like a quiet car — even when my kids are yammering away in the backseat.
Related
Research the 2013 Nissan Sentra
2013 Honda Civic Versus 2013 Nissan Sentra
More Family News