2013 Toyota Sienna: Family Checklist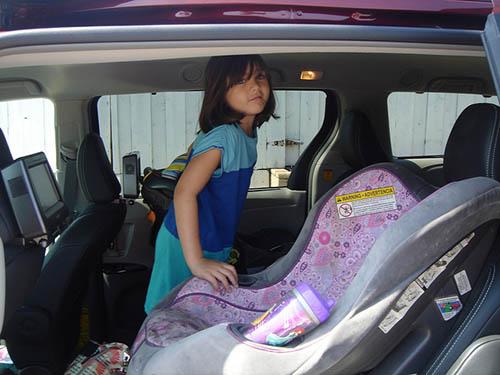 With three young daughters in bulky child-safety seats, I've happily resigned to spending a few more years behind the wheel of a minivan. However, there's no reason that it has to be boring. The 2013 Toyota Sienna SE is an eight-passenger minivan that stands out from the rest of the Sienna lineup with unique front and rear bumpers, clear-lens taillights, a mesh grille and 19-inch alloy wheels.
The sporty Sienna SE turns my head every time I see it around my neighborhood, and with a starting price of $27,445, including a destination charge, it's within reach for my family.
However, the Toyota Sienna, which was redesigned for the 2011 model year and hasn't changed much since then, didn't fare well in Cars.com's Ultimate Minivan Shootout from 2011. I drive a 2007 Sienna when I'm not test-driving cars, so I was interested to see if I'd have a different opinion of the 2013 Sienna than the Cars.com judges.
In the Shootout, the Sienna finished in last place. As soon as I slid open the 2013's doors, I could see why it wasn't a favorite. The Sienna's interior is just kind of "meh." I wasn't thrilled with the design of the center controls, and the optional 6.1-inch touch-screen was too small for my liking. On the top-of-the-line Limited trim, there's a 7-inch touch-screen, but even that seems stingy.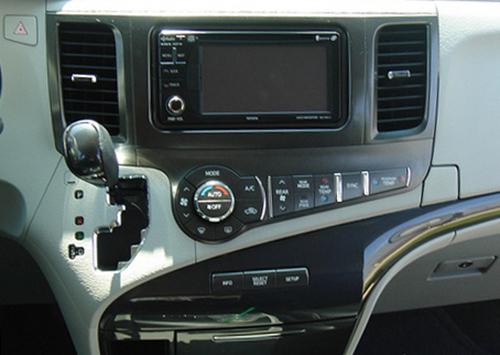 Even with its less-than-stellar interior, the Sienna is a popular choice among families. Unsurprisingly, my family of five fit perfectly into the Sienna SE, which seats eight. However, the 2013 Sienna lacks the large center seat in the second row that's found in my 2007 model. I prefer to keep my 1-, 2- and 4-year-old daughters in the second row so I can make sure they are all buckled up correctly in their child-safety seats. Unfortunately, the Sienna now has a shrunken middle seat — so much so that I couldn't fit all three car seats across the second row.
My 4-year-old had to sit in the third row, but it was easy for her to get back there because of the Sienna's easy-to-remove center seat, which creates a path to the third row. This left her with few complaints. I was thrilled to report to my husband that the removed seat wouldn't be taking up space in our garage. Instead, it fits nicely into a recessed storage pocket in the cargo area.
All three of my children are in different car seats, and thanks to three sets of Latch anchors — two sets in the second row and another set in the third row — I was able to install them with ease and not take away legroom from other passengers. Also, my 4-year-old was able to buckle herself up without my assistance (can I get an amen?) in her booster seat thanks to some stable seat belt buckles.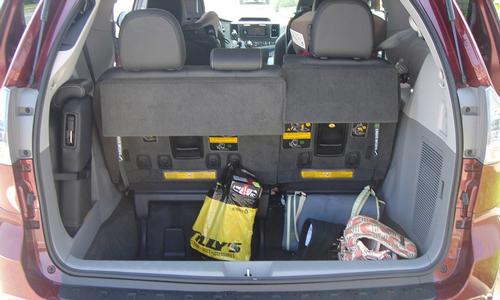 With kids comes stuff, and the Sienna can easily handle all of it and more. The Sienna has 39.1 cubic feet of cargo space in a well behind the third row. There was plenty of room for my double stroller and convenient hooks for grocery bags. It's also easy to fold the 60/40-split third row into the floor for even more cargo space.
It's not always easy for parents to admit that they need a minivan, but the Sienna has just enough features and standout looks to keep those parents comfortable while hauling the kids around.
Related
2013 Toyota Sienna Expert Review
Is the Toyota Sienna SE a Better Value Than the XLE
More Family News