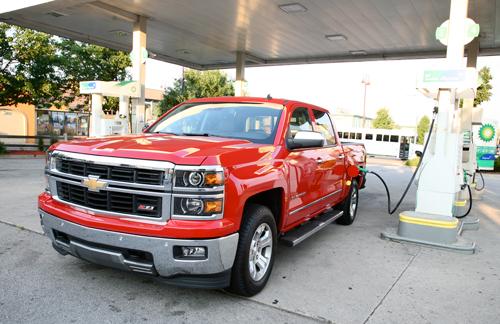 Chevrolet overhauled its half-ton Silverado for the 2014 model year, bringing with it a green punch thanks to the impressive EPA ratings for both its six- and eight-cylinder models.
At its introduction, the Bow-Tie brand threw a risky ball in Ford's court, claiming its 5.3-liter V-8 Silverado is more efficient than the Blue Oval's famed 3.5-liter EcoBoost six-cylinder in its best-selling F-150.
On a recent PickupTrucks.com Challenge, we gathered numbers proving GM's new half-ton twins are greener — even when towing. Engineers added fuel-saving technology to the EcoTec3 5.3-liter V-8 such as active fuel management, which shuts down four of the eight cylinders under light driving; direct injection; and variable valve timing.
We recently tested a 2014 Silverado at our Chicago headquarters and had the opportunity to once again see how it fared in the real world.
The 2014 Silverado 1500 LTZ Z71 crew cab with four-wheel drive was put to the test on a 200-mile trip to Milwaukee from Chicago and back again. Both trips were strictly highway driving with normal use of the climate control. My results were fairly on-par with the EPA ratings.
The Silverado shines on the highway, achieving more than 20 mpg even as it fought its way through intense rush-hour traffic for a majority of the first trip and about a third of the second. The rest of the miles were at typical highway speeds.
Looking down at the customizable digital gauge cluster, which is new for 2014, you can see the truck switch from eight cylinders to four, the latter happening more frequently at cruising speeds. It would be ideal if the engine's active fuel management would stay in four-cylinder mode during stop-and-go traffic on the highway. The transition, however, is seamless, and the other four-cylinders fire up on command when there's a need to pass or accelerate from a low speed.
Once back in my hometown of Whitefish Bay, Wis., the Silverado averaged between 18 and 19 mpg during suburban driving.
Some of our editors weren't as fortunate, observing underwhelming trip computer readouts of just 16.2 mpg, 15.5 and even as low as 13.8 on their shorter but just as congested commutes and in around-town driving.
Using "Big Red" as a commuter felt like piloting a La-Z-Boy on wheels, with a quiet, spacious cabin that allowed me to spread out after a long day in the office. The LTZ Z71 trim brought upscale amenities such as a power sunroof, ventilated front seats and Chevrolet's new MyLink system. Good visibility allowed for confident lane changes, and advanced safety features like lane departure warning and forward collision alert used a vibrating seat borrowed from Cadillac to keep you focused on driving. Also borrowed from Cadillac is the sticker price it seems, ringing in at just less than $50,000.
Power-folding side mirrors, a backup camera and parking sensors made parking "Big Red" on the street a stress-free endeavor. The new Silverado's integrated rear-bumper steps made the loading and unloading of multiple mountain bikes easy. Editor Kelsey Mays managed to load a more than 6-foot-long couch into the Silverado's rather short 5.5-foot bed, but he found the tie-down hooks to be a bit of a disappointment.
If fuel economy is a key factor in a truck-buying decision, the Silverado — with or without all the LTZ Z71's features — looks to be a solid choice.
Related:
Research the 2014 Chevrolet Silverado 1500
First Drive: 2014 Chevrolet Silverado 1500
PickupTrucks.com's 2013 Light-Duty Challenge