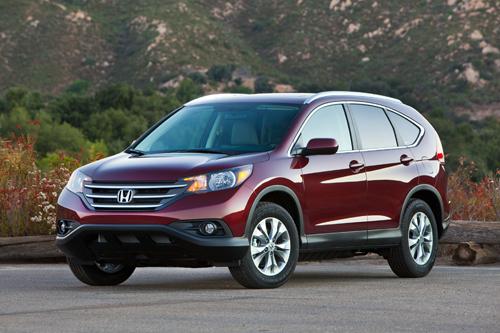 Most significant changes: No changes for 2014
Price change: $150 higher on all models
On sale: Since early August
Which you should buy, 2013 or 2014? 2013
After introducing a redesigned CR-V crossover for 2013, Honda makes no changes for the current generation's second year. And there really was no reason to make any alterations to what seems to be a winning formula. The new CR-V was launched without quality glitches, sales are up nearly 9% this year and it remains the best-selling SUV (and among the 10 best-selling vehicles of all types).
The CR-V offers an appealing blend of passenger room, cargo space, fuel economy and overall performance, plus it comes with a standard backup camera, Bluetooth and other popular features even on the base LX models.
You don't get a lot of choices with the CR-V in the way of options. Instead, in typical Honda fashion you have to choose a specific model and take what's on it. The only options are a choice of front- or all-wheel drive on all models and a rear entertainment system or a navigation system on the EX-L. All versions come with a 2.4-liter four-cylinder engine and a five-speed automatic transmission.
Though 2014 CR-Vs have been at dealerships since early August, more than one-third of the models in Cars.com's new car inventory are 2013s. The CR-V has been selling well enough that discounts might be hard to get in many locations, but the best chances are on a 2013 model, which will be just as good a 2014.
Related
2013 Honda CR-V Review
$25,000 Compact SUV Shootout
Research More SUVs