2014 Subaru Forester: Real-World Mileage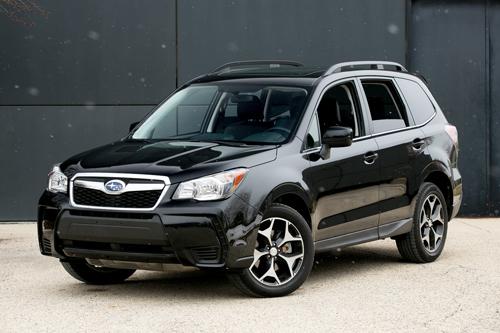 It's been a few years since I was last in a Subaru Forester test car, but I've spent quite a bit of time in my mom's 2012 Forester. As an artist, she needs space to haul around large canvasses and occasionally the grandkids. And, lets not kid ourselves, the sky blue metallic exterior paint is what really won her over, since this girly color is uncommon and easy for her to spot in a busy parking lot. While she loves many things about her car, fuel economy isn't one of them. After just a few weeks, she became concerned that something was wrong with it because she was visiting the gas station too often.
For 2014, Subaru promised the redesigned Forester would feature "significantly improved performance, economy, comfort and space." It's offered in six different trim levels: the 2.5i, the 2.5i Premium, the 2.5i Limited, the 2.5i Touring (which I drove), the 2.0XT Premium (pictured above) and the 2.0XT Touring. Check them out side by side here.
The Forester's fuel tank holds 15.9 gallons of gas, and for those seeking to maximize every last drop of it, the 2.5i Limited and Touring are the best bets, with an EPA estimated 24/32 mpg city/highway. They feature a continuously variable transmission along with a new electric power assisted steering system, which are purported to improve fuel consumption.
I drove the Forester for a full week as my family car, hauling the kids to and from summer camps, the grocery store, the gym, play dates and more, giving me a solid sampling of both city and highway miles to test out its real-world fuel economy. During the week, my family and I clocked a combined total of 367 miles. I consumed 12.96 gallons of fuel, with an observed 28.32 combined mpg; the EPA estimate for combined mileage is 27 mpg. The vehicle's trip computer reported an average of 28.5 mpg.
While the improved fuel economy is a bonus for anyone pinching pennies, especially families with 529s to fund, the Forester has plenty of new noteworthy and thoughtful family-friendly amendments as well. A giant panoramic sunroof keeps backseat passengers from feeling claustrophobic; the center rear armrest has been raised slightly so that kids in boosters and car seats can easily access the cupholders; the rear floor is much flatter, making it easier for kids to climb in and out, even while schlepping large backpacks; and a power rear liftgate allows parents to keep a hand on wandering toddlers in busy parking lots while easily opening the cargo door.
Picking my mom up in the 2014 Forester for lunch one day, she didn't even recognize it and exclaimed, "Wow, this is nice! What is it?" Since the 2014 version comes in more, ahem, normal colors, an immediate upgrade doesn't appear to be in the cards for my mom.
Related
Research the 2014 Subaru Forester
Cars.com Reviews the 2014 Subaru Forester
2014 Subaru Forester: Second Take