2015 Porsche Spyder: Photo Gallery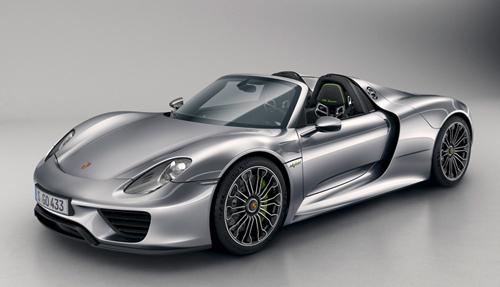 After several years of development and teasers, Porsche officially unveiled the long-awaited production version of the 2015 918 Spyder at the 2013 Frankfurt Motor Show. We have written about the 918 Spyder's eye-popping specs previously, but a few of the numbers are worth repeating: 887 total horsepower from a midmounted 4.6-liter V-8 and three electric motors. Zero-to-60 mph is accomplished in 2.8 seconds. Top speed? Upward of 211 mph. Even more impressive is a claimed recent lap of Germany's famed Nurburgring track in a scant 6 minutes and 57 seconds, a new world record (for now).
The 918 Spyder's green-car credentials — beyond those neon-green brake calipers — are also worth mentioning. It offers 10 to 20 miles of pure electric range from its liquid-cooled lithium-ion batteries and an electric-only top speed of 93 mph. Charging time is around four hours on a 220-volt plug or 25 minutes with an optional DC fast charger.
Check out the photo gallery below for more drool-worthy photos of the 918 Spyder, especially that center console full of touch-screens. And please, take your time; we'll be off trying to scrounge up $845,000 to buy one.
Click on any image for a larger version.
Related
Porsche 918 Spyder Concept: Wild and Green, Too
Porsche's Electric Plan Takes Shape: 918 Spyder a Reality
More Hybrid News