Chevrolet, GMC Pack USB Ports Into 2014 Pickups
With USB ports now commonplace in new cars, trucks and SUVs, it didn't take long for engineers to realize more is better. The 2014 GMC Sierra SLT 1500 and Chevrolet Silverado LTZ 1500 we recently tested each had five USB inputs for charging cellphones, music players, tablets, cameras, toy helicopters or whatever else has a battery and USB charging capabilities. The base trucks have two USB ports each.
The trucks' USB locations are divvied into a group of three ports below the climate controls, and the remaining two are in the center console. Not only are there five inputs, but a Chevrolet representative says all five can read devices as well as charge them. Often extra USB ports are merely charging docks and aren't capable of reading a device for music.
Just in my daily routine, I would appreciate more than one USB port to charge both my iPhone (relegated to music duty) and Samsung phone, plus another port wouldn't hurt for passengers to charge their phones.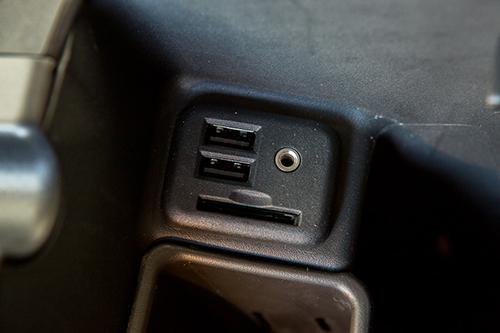 Those who use their truck as a mobile office will surely appreciate the charging capabilities as well as the truck's versatility; there are also available household AC outlets in addition to DC outlets. No longer do GM truck owners have to buy a cigarette lighter USB adapter, which seemingly only comes in pastel colors, to have more than one USB input. Also gone is the "my phone died" excuse, which won't cut it if the person on the other line knows you're driving one of GM's 2014 trucks with five USB inputs.

Related
PickupTrucks.com Drives the 2014 Chevrolet Silverado 1500
More Pickup Truck News
Find the Right New Pickup