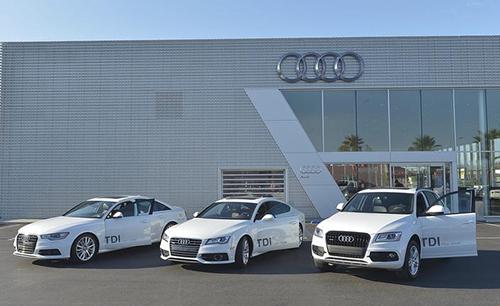 A trio of 2014 Audi diesel models logged mileage figures that obliterated their EPA estimates during a two-day, coast-to-coast road trip last weekend. A group of hypermilers set out to prove just how far they could go on as little fuel as possible. The most impressive performance came courtesy of the new Audi A6 TDI sedan, which completed the journey with a combined fuel-economy figure that was 50% better than its corresponding EPA rating.
The A6 drove at an average speed of 62.44 mph and consumed a total of only 66.08 gallons of fuel for a recorded 43.56 mpg — 15% better than the EPA highway-mileage rating and 50% better than its combined rating (the EPA lists it at 24/38/29 mpg city/highway/combined). The A7 TDI sedan, whose EPA estimates mirror those of the A6, logged mileage of 42.65 at an average speed of 62.17 mph — 12% better than its highway rating and 47% better than the combined figure. Meanwhile, the Q5 TDI compact crossover, serving in the challenge as a support vehicle carrying luggage and supplies, still managed 38.62 mpg at an average speed of 61.9 mph, 24.5% better than its EPA highway rating and 43% better than its combined rating (24/31/27 mpg).
Drivers in the "Truth in 48" challenge included Wayne Gerdes, Sebastian Blanco, Jill Ciminillo and Christian Moe. Teams making the 2,850-mile trip between Southern California and New York City were tasked with completing the journey in 48 hours, stopping to refuel only four times; they finished in 46 hours, 9 minutes.
Ciminillo said she was surprised by the results. "I was a bit skeptical that we could drive through mountains and still reach EPA estimates — while going the speed limit. But we did it," she said, lauding the efficiency of the 2014 Audi TDIs. "It's the best of both worlds — driving at speed and being fuel efficient. Kind of makes spending 46 hours straight in a car with three other unshowered people worth it."
Related

Gas-Saving Moment of the Day: Hypermiling

Volkswagen Passat Sets Guinness Record for U.S. Mileage
Audi to Bring More Diesel Models to the U.S. Market