Lexus LF-NX Crossover Concept at the 2013 Frankfurt Motor Show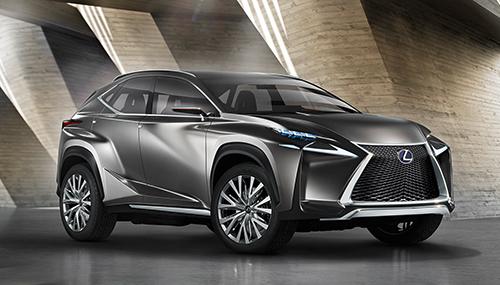 Looks like: A Lexus RX that's been bulking up at the gym
Defining characteristics: Futuristic, aggressive exterior styling
Ridiculous features: That ginormous front grille
Chance of being mass-produced: Lexus isn't committing to it; the design looks out-there, but the powertrain isn't.
Lexus announced today that it would unveil its new crossover concept, the LF-NX, this month at the 2013 Frankfurt Motor Show. The concept combines aggressive, muscular exterior styling and "Human Oriented" interior design with a full-hybrid powertrain using a new variant of the Lexus Hybrid Drive system tuned for SUV performance.
The most obvious notable feature of the solid-looking Brushed Metal Silver exterior is the expansive spindle grille that dominates the vehicle's front end; that's in addition to front lighting with independent daytime running lights and corner styling that separates the bumper from the front wing with a deep vertical cut.
Wheel arches are trimmed with a black protective finish, and above the diamond shape of the belt line "a classic Lexus side glazing profile and steeply raked tailgate create the sweeping silhouette of an athletic coupe," the automaker said in a statement. The rear end features articulated lamp clusters detailed to project downward to the full depth of the bumper, "creating a sharp, aerodynamic trailing edge to the vehicle which mirrors the front wing detailing."
Lexus says the cockpit is "driver-focused" and creates an "ergonomically ideal" environment using the automaker's Human Oriented L-Finesse design concept. An upper display zone and lower operation zone for the dashboard-mounted multimedia system aim to foster intuitive use of touch-screen functions. The interior has "carved-metal surfacing" with Sunrise Yellow and black leather upholstery with contrast stitching, along with blue instrument lighting.
We'll have to wait for more info when the LF-NX crossover concept bows at the Frankfurt Motor Show on Sept. 10. Until then, check out more renderings of the vehicle below.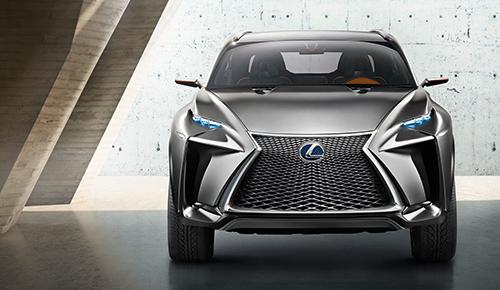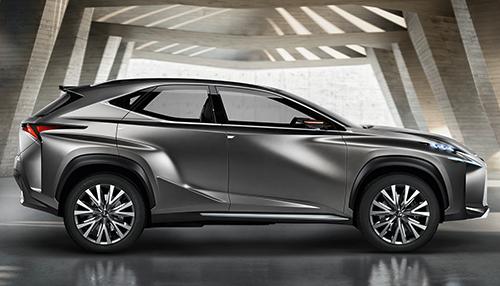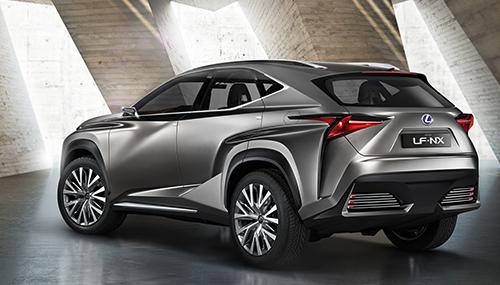 Related
Infiniti Q30 Concept Blends Coupe, Hatchback and Crossover Styles
BMW Concept X5 eDrive at the 2013 Frankfurt Motor Show

More Concept Car News on Cars.com