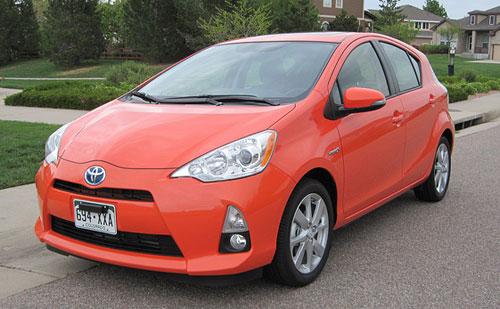 In a recurrent chorus, GM said it had its best month since September 2008. Chrysler said it had its best August since 2007 while Honda says it had its best August ever.
Chrysler's gains were thanks to August records for Jeep's Wrangler, Compass and Patriot, plus a 30.9% sales increase for the automaker's popular Ram pickup. (Chrysler's U.S. umbrella includes Chrysler, Dodge, Jeep, Ram and Fiat.) It marks the automaker's 41st month in a row of year-over-year sales increases.
Honda sold nearly 40,000 Civics in the last full month of summer. Purchase incentives remained steady with year-ago levels — when the maligned 2012 Civic was still in showrooms — but sales were anything but steady. The popular compact surged 58.5% in August, edging out the Accord to become Honda's best-seller. It would have been America's best-selling car in August, but the Toyota Camry piled on 21.8% in sales to keep the spot.
Look down the list and the bigger surprise is the
Toyota Prius
hybrid. Despite
lower gas prices in August
, Prius sales still surged thanks to big gains from the
Prius c
and
Prius Plug-In
. Year-over-year incentives on the car were stable, but sales gained 29.6% over an already-big August 2012.
Other notable best-sellers included the Nissan Altima, which is up 19.6% despite lower year-over-year incentives and the Altima coupe being phased out, and the Chevrolet Equinox — up 23.9%, thanks to higher inventory and incentives versus year-ago levels. Ford said the Fusion sedan had its best August in the nameplate's eight-year history, and the F-Series pickup had its 25th consecutive month of year-over-year sales increases. Ford's most popular truck led the pace for all full-size pickups, which increased 18.5% in August. And pickups did that with relatively no incentives push versus year-ago levels on the segment's popular players. Finance and cash-back deals on Chrysler's Ram pickup went down a bit, and GM's Chevrolet Silverado and GMC Sierra twins shed the glut of inventory in August 2012 thanks to new designs for both hitting dealerships. But pickup demand kept up and not just because of a healthier housing market.
With the top seven automakers reporting numbers, August sales increased 16.5%; they're up 9.9% for the year, and by day's end we could see the best sales pace since before the recession. You could chalk it up to a healthier economy in general. Consumer confidence, often up and down depending on the month, has seen a sustained lift as unemployment in July (the latest month of data) fell to 7.4%. That's the lowest level in nearly five years.
New-car incentives are still up versus year-ago levels, with an average $5,621 per car in total discounts — including discount financing and lease offers, cash back and other freebies — according to CNW Marketing Research. That's up $646 versus August 2012. But ever-rising MSRPs still had the average car transacting at $32,666 in the first half of August 2013, according to CNW; that's up $485 over August 2012.
Here are August's top 10 best-selling cars.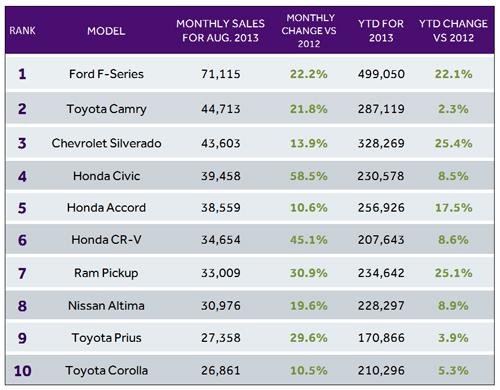 Related
August's Fastest- and Slowest-Selling Cars
Top 10 Bestselling Cars: July 2013
More Automotive News