2014 Fiat 500L: Family Checklist
The "L" in Fiat's 2014 500L could stand for love. My family and I loved the 500L for lots of reasons. It's comfortable, flexible and rather family-of-four friendly. I didn't see that coming in this not-so-little hatchback.
First of all, the 500L — the L stands for large — has a fun look. On paper, my test car's dark gray metallic paint job wouldn't seem exciting, but in person, the optional white-colored roof ($500) made the gray color look sporty and modern. The design of Fiat's 500 is echoed in the L; it still has the nifty round headlights and taillights, smiley grille and bubbly shape. It's longer and wider than its 500 sibling and kind of breadbox-shaped, but this allows for easy loading and unloading not just of people but of stuff, too.
The five-seat hatchback's liftgate raises up high enough that I could stand under it (I'm 5 feet 5 inches tall) to get gear loaded into the 23.1-cubic-foot cargo area. I could still reach the hatch handle to close it. My son's bulky hockey bag fit in the cargo area with room to spare; it could have managed two of them. I had to put his hockey stick and my daughter's lacrosse stick in the passenger area. Needless to say, I was impressed by the 500L's capacity.
Young tykes will need a little help getting in the 500L because it sits a bit higher than a sedan, but they will likely get used to it. Otherwise, the backseat can be great for kids. The 60/40-split folding bench slides forward and back, and the seatbacks recline for comfort. There's also a folding armrest with two cupholders. I loved how my two school-aged kids fit in the backseat without incident.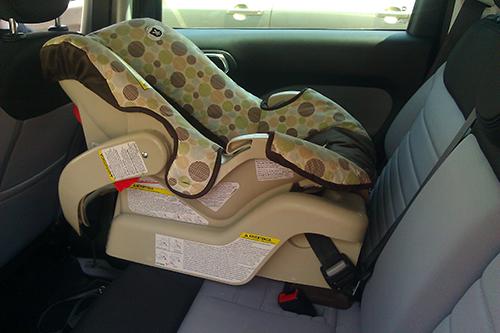 However, the 500L's backseat might be a tight fit for rear-facing seats. I was able to fit a rear-facing infant seat behind the driver's seat, but Cars.com's certified car-seat technicians had to move the front passenger seat forward when installing a rear-facing car seat behind it. However, the two sets of lower Latch anchors are visible and easy to use.
My 500L Easy trim didn't have the fun interior of the 500, which features plastic trim that matches the smaller car's exterior paint color, but there's still plenty to like. The optional panoramic sunroof ($1,100) only opens over the front, but its rear glass keeps the backseat feeling roomy and light. In the front row, there are two cupholders and two glove boxes. There's also a grippy cubby for a mobile device and a small center console. Of course, you will have to edit how many things you bring into the 500L as it's not a minivan.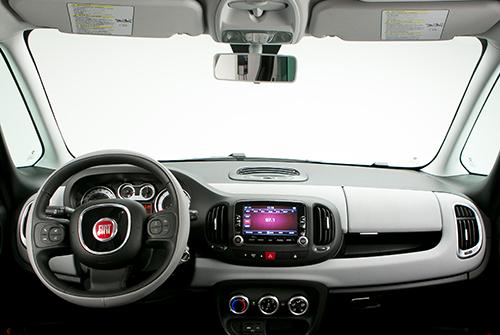 Visibility is good in the 500L thanks to its tall windows and its split A-pillars with a triangular window that allows you to see pedestrians who normally would have been hidden by the A-pillar.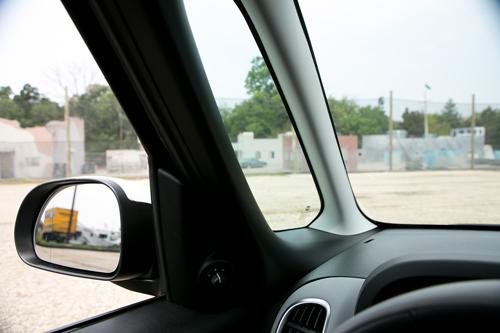 The 500L's 160-horsepower, turbocharged 1.4-liter four-cylinder had plenty of power for everyday driving. It has more oomph than the 500, and for that I was grateful, as the 500 seemed underpowered to me. The 500L isn't perfect; there's some turbo lag and a little body roll, but I didn't care too much because the 500L really is just a kick to drive.
During my weeklong test drive, I was continually impressed by how well the 500L fit my busy family life. And when I was without my kids, I especially loved that I didn't feel like I was driving around too much car.
Related
2014 Fiat 500L Expert Review
2014 Fiat 500L Video
More Family News