2014 Kia Forte: Family Checklist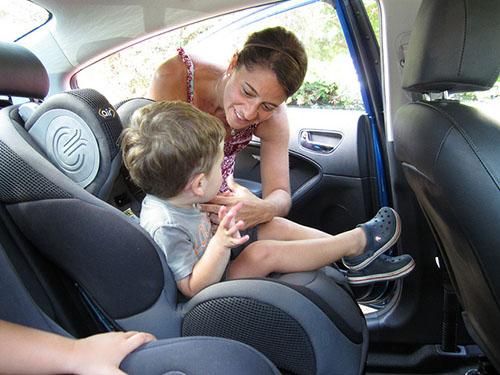 Any parent would be thrilled to have the redesigned 2014 Kia Forte in the family garage; this compact sedan is good-looking, economical and surprisingly luxurious.
What a difference a year makes for the Forte. When I drove the 2013 model earlier this year, I likened it to an iPhone 4 living in an iPhone 5 world. It's impressive how much of an improvement the 2014 is over the 2013.
Some of my biggest beefs with the 2013 model were the steering and handling, but they've been improved for 2014. My 2014 Forte EX had the larger 173-horsepower, 2.0-liter four-cylinder engine that's paired with a six-speed automatic transmission. It gets an EPA-estimated 24/36 mpg. I'm not sure what happened when it came to my gas mileage for the week — I averaged 22 mpg for my weeklong test drive — but I blame it on several days of commuting in Los Angeles' bumper-to-bumper traffic.
While I wasn't thrilled with my gas mileage, I was downright annoyed by the Forte's in-cabin noise. It's hard enough to cope with a toddler's demands en route most of the time, but paired with how loud the engine sounded, I almost lost my cool. That racket is really at odds with the Forte's luxurious feel.
This may seem like the ideal car for a first-time driver, but parents should dig into its crash-test scores before making a decision. The 2014 Forte has been named a Top Safety Pick by the Insurance Institute for Highway Safety. It earned the highest score of good in front, side, roof-strength and seat tests. However, it received the lowest score of poor in the new small overlap front crash test that simulates a crash where the car's front corner hits an object like a tree or pole at 40 mph.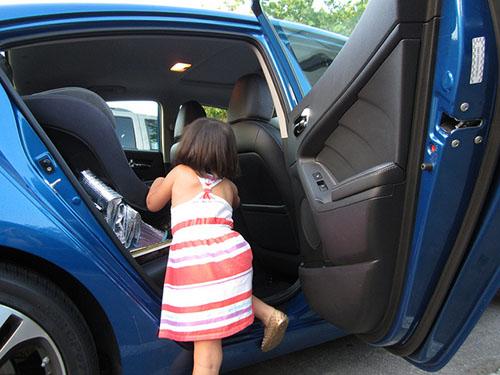 Smaller families shouldn't disregard the Forte due to its compact size. With its redesign, it grew a few inches in length and width. Its 42.2 inches of front legroom and 35.9 inches of rear legroom are on par with its competitors. Only the 2013 Honda Civic (36.2 inches) and redesigned 2014 Toyota Corolla (41.4) have more rear legroom. Because it's a sedan its low step-in height makes for easy entry and exit for little ones.
Two car seats fit easily in the Forte. The two sets of lower Latch anchors weren't the most friendly — stiff seat cushions made them tough to access — but once I installed my daughter's and her friend's forward-facing convertibles, we left any hard feelings toward the Latch anchors far behind us.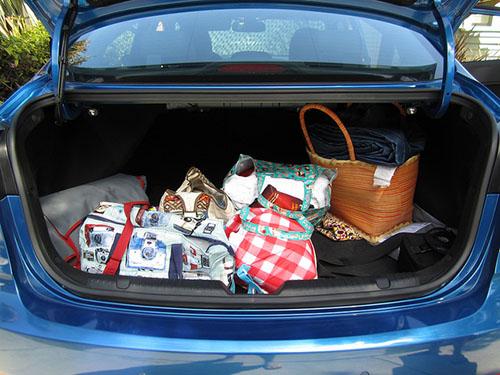 The trunk is plenty big at 14.9 cubic feet, and it bests the Civic (12.5 cubic feet) and the Corolla (13.0). However, the 2014 Chevrolet Cruze beats the Forte with a 15.0-cubic-foot trunk. When my friend and I packed the Forte's trunk for a beach day, our two cooler bags, blankets, beach towels and a chair hardly made a dent in the space.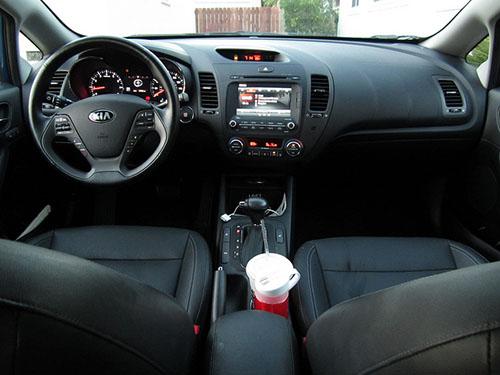 My top-of-the-line EX test car, which had the EX Tech ($2,300) and Premium ($2,600) packages, had optional features that are usually reserved for midsize and full-size sedans, certainly not compacts. It had a heated steering wheel, heated and ventilated front seats, and even heated rear seats for the kiddos.
Yes, these are options, but the fact that they could be found on a car in this class impressed me. The 2014 Forte satisfies my need for luxury features without making the jump to bigger sedans.
Related
Research the 2014 Kia Forte
2013 Honda Civic Versus 2014 Kia Forte
More Family News