Audi Prices 2015 A3 Sedan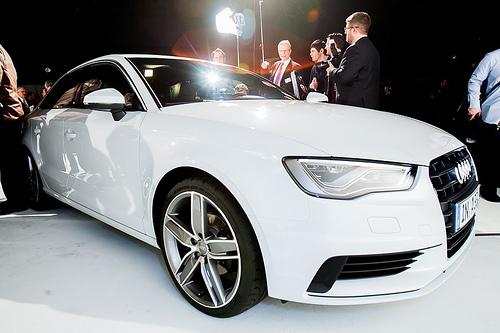 The compact luxury wars are heating up. Audi's new A3 sedan will start at $30,795, including an $895 destination fee, when it goes on sale in the spring. That puts it squarely in Mercedes-Benz CLA-Class territory.
The U.S. is no stranger to the automaker's A3 hatchback, but this is the first time a sedan variant is being offered here. Audi's new entry-level sedan is 6.5 inches longer than the current A3 hatchback, and about 10 inches shorter than its A4 sedan. Several powertrains will be available: turbocharged 1.8-liter and 2.0-liter four-cylinder gas engines; a 2.0-liter clean-diesel four-cylinder will eventually join the lineup. A six-speed dual- clutch automatic is the sole transmission; front- or Audi's Quattro all-wheel drive are available.
The A3 is full of luxury standards like a panoramic sunroof, leather seating surfaces and bi-xenon high-intensity discharge headlights. The options list includes equipment that appears on the automaker's flagship A8 sedan, including the MMI multimedia system, Audi drive select system, LED daytime running lights and taillights, 4G LTE connectivity and Bang & Olufsen audio.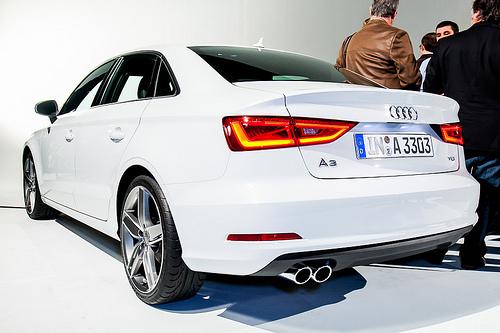 Audi has some big plans for the A3 family; joining the A3 sedan later in 2014 are TDI and cabriolet versions. The performance- oriented S3 sedan will bow in early 2015, powered by a high-output version of the 2.0-liter engine. The hatchback will eventually return to the lineup, but only in the form of the A3 Sportback e-tron plug-in hybrid vehicle, launching sometime in 2015.
The sedan's main competitor, the new Mercedes-Benz CLA-Class, starts at $30,825, including destination. The 2013 A3 hatchback starts at $28,165, including destination, and Audi is phasing out the perpetual slow seller; so far this year the automaker has only sold 856 of them.
Related
2015 Audi A3 and S3 at the 2013 New York Auto Show
2015 Audi A3 and S3: Up Close
More Audi News