Designer Dreams up Zombie-Slaying Santa Fe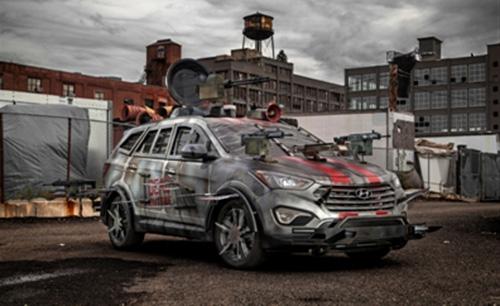 While you're still trying to decide what to go as this Halloween, a 2013 Hyundai Santa Fe is all dressed up and ready to scare the living daylights out of the walking dead. Just in time to get into the spooky spirit, the midsize SUV has been outfitted in a trim level that, well, let's just say you won't find in the Cars.com Research section: the Zombie Survival Machine.
Designed by a fan of AMC's "The Walking Dead" TV show and brought to, um, life by Southern California-based car-customizer Galpin Auto Sports, the Zombie Survival Machine is equipped with everything one might need to survive that "zombie apocalypse" everyone is prophesying these days. Indeed, it looks like something author Max Brooks might like to drive to a "World War Z" book signing. The undead-assault vehicle, designed by "The Walking Dead" watcher Anson Kuo, was chosen from more than 82,500 fan submissions and revealed earlier this month at New York Comic Con.
The "urban-camouflaged" Zombie Survival Machine's arsenal boasts knife blades, an automatic crossbow, razor-wired windows, three machine guns, a samurai sword, aluminum armor and a muffler silencer. In other words, Hyundai noted in a news release, it's zombie-proof.
"My main design goal was to make the vehicle as stealthy and spacious as possible," Kuo said. "I knew knives and blades would be the best bet for weaponry — they could slice and dice the zombies without releasing any ammunition. Basing the design on the Santa Fe allows space for extra passengers as well as weapons, supplies and all the other necessary items needed during a real zombie apocalypse."
And hey, if all else fails, you could make the zombies sit in the Santa Fe's cramped third row. That ought to scare 'em off.
Related

Top 10 Cars for the 2012 Apocalypse
Zombies, Pirates and Volvo, Oh My
Keep Halloween Trick-Free With These Safety Tips