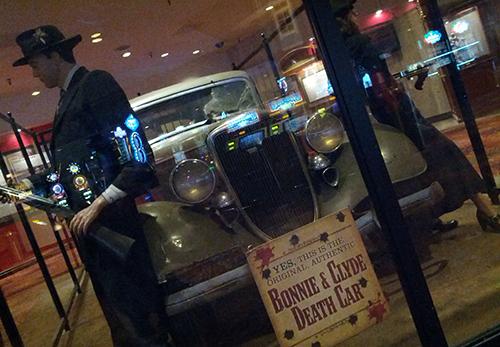 Earlier this year, we encouraged readers of the Cars.com Advice section to avail themselves of some of this nation's countless car-themed oddities and attractions that are just off the interstates and off the beaten path. One of those was the official "Bonnie and Clyde Death Car" at Primm Valley Resorts' Whiskey Pete's Hotel & Casino in Primm, Nev., about 40 miles outside Las Vegas on Interstate 15.
I recently had the opportunity to take our own advice and visited the honest-to-goodness Bonnie and Clyde death car this past summer while driving from Las Vegas to Los Angeles. The free exhibit took only the time of an extended gas stop to explore, and it is well-worth the minor detour to the oddball, off-off-off strip casino cluster that is Primm.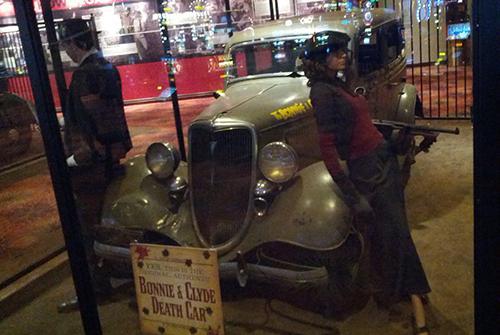 The car toured carnival and history-exhibit circuits for decades until finding its permanent home in Primm when the resort purchased it 25 years ago for $250,000, according to msn.com. The exhibit also features a second car, a custom-built 1931 Lincoln with bulletproof, lead-filled doors and inch-thick glass belonging to notorious gangster Dutch Schultz and later used by Al Capone's mob before being seized by the Chicago Police Department.
While many fugazzis have purported to be the vehicle in which storied crime-spree couple Bonnie Parker and Clyde Barrow were shot to death by authorities nearly 80 years ago, the 1934 Ford Model 730 Deluxe V-8 sedan — displayed prominently, yet unceremoniously, behind photo-obscuring reflective glass in the casino lobby and flanked by "Bonnie and Clyde" statues — is the genuine article. The casino even proudly displays the certificate of authenticity as part of the exhibit — which you'll notice just after thinking, "Yeah, but how do we know it's the real Bonnie and Clyde death car?" Further corroborating artifacts include the shirt Barrow died in and several photos and newspaper clippings from the time.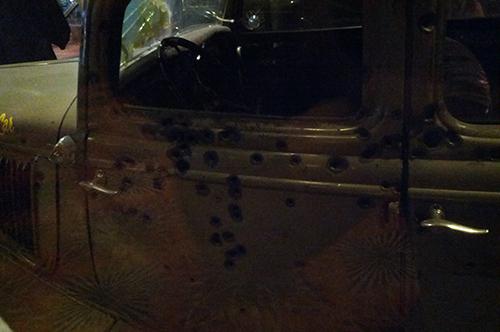 OK, so it's somewhat macabre to stand there and gawk at the bullet-hole-riddled vehicle in which two people were shot to death — but certainly no more so than romanticizing a pair of murderous Depression-era armed robbers as folk (anti)heroes. Parker and Barrow went out in that Ford in a proverbial blaze of glory on May 23, 1934, after encountering a roadblock ambush by pursuing lawmen who pumped more than 100 bullets into the car, according to RoadsideAmerica.com, a road-trip-oddity enthusiast website.
The shootout also remains one of Hollywood's most unforgettable movie climaxes with actors Warren Beatty and Faye Dunaway on the receiving end of all those bullets in 1967's "Bonnie and Clyde."
The real couple's demise ended a more-than-two-year crime spree that started in 1932 after Barrow's parole from prison. It included numerous armed robberies of banks and other institutions, kidnappings, gunfights and the wounding and killing of several law-enforcement officers. The crime spree spanned Texas, Oklahoma, New Mexico, Missouri, Arkansas and Louisiana, where it came to its bloody conclusion.
Ford lays claim to more than its fair share of landmark moments in automotive history — such as the advent of the moving assembly line a century ago this week — so the enthusiastic endorsement of one of the most famous criminals of all time isn't likely one of the proudest feathers in its cap. But Barrow appreciated the automaker's products so deeply that he was moved to send a handwritten letter to Henry Ford telling him so in 1934 — by the sound of things, Barrow sensed the end was nigh.
"While I still have got breath in my lungs I will tell you what a dandy car you make," Barrow wrote. "I have drove Fords exclusively when I could get away with one. For sustained speed and freedom from trouble the Ford has got every other car skinned and even if my business hasn't been strictly legal it don't hurt any thing to tell you what a fine car you got in the V8."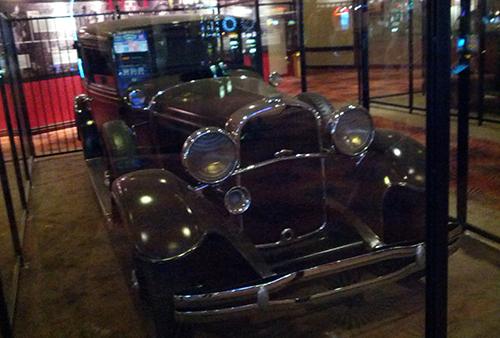 Related

Car-Themed Road Trips

Ford's Moving Assembly Line Turns 100

Drive-In Diners Motor into 21st Century