Teen Drivers: Monkey See, Monkey Do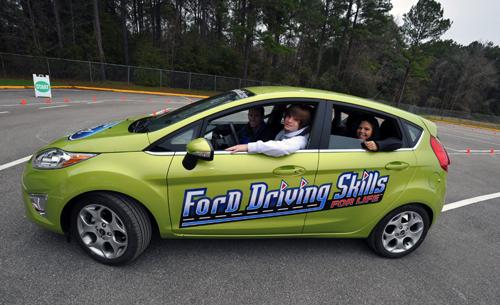 This week is Teen Safe Driving Week, and while it may be tempting to use this as an opportunity to focus on our teen drivers' lack of skills, the root of the problem is often with us — the parents.
Just as toddlers imitate our behavior in the car (my then 3-year-old mimicked me for months and exclaimed "Oh crabs" after a particularly frustrating encounter with a car seat), monkey see, monkey do also holds true for teenagers. It's as important as ever for us to set a positive example in the car before our teens become totally independent.
Experts at Ford's Driving Skills for Life, a program that teaches advanced driving skills to new drivers to help them gain critical experience in difficult situations, offer some tips on how both parents and teens can be safer drivers. While many of them may seem obvious, such as always buckle up, never speed and never drink and drive, others are much more multifaceted.
Ford's experts suggest parents engage in the driving process as much as possible. "As teens get closer to earning/acquiring their learner's permit, parents should actively engage with them about driving. Talk about safe driving behaviors, practice with them, seek educational opportunities and be clear that unsafe actions won't be tolerated," the organization said in a statement.
AAA also advocates for parents getting involved in the teaching/learning process. According to a series of research studies from the AAA Foundation for Traffic Safety, nearly half of parents reported that they wanted their teens to get "a lot of practice" driving. However, only about one in four parents mentioned practicing with their teen by driving under a variety of situations or conditions, such as in bad weather, heavy traffic or on unfamiliar roads. Nearly half of parents also reported that there was still at least one condition in which they were not comfortable allowing their teen to drive unsupervised, even after they passed their driving test. If we don't practice with them in difficult conditions and tricky situations, who will?
One great, free way to help the teens in our lives gain additional experience behind the wheel is through Driver's Edge. This Nevada-based, nationally touring nonprofit organization puts teens and young adults (and their parents) behind the wheel with a mission "to teach young drivers what's not currently being taught in driver's ed." I have attended Driver's Edge sessions on numerous occasions and learn something new each time. Not to mention it's just flat out fun.
AAA offers a two-hour StartSmart Online Parent Session, which you can do on your own time to gain additional tools for supervising and managing your teen driver. And to keep it light, parents can also participate in an online "Are You Smarter Than Your Teen Driver" quiz for a chance to win an iPad mini.
If you have teens in your home, what other tips, tricks and tools can you share with other parents for instilling safe habits in new teen drivers? Share them with us in the comments section below.
Related
Review Family Road Rules During Teen Driver Safety Week
Tips for Teaching Your Teen to Drive
More Family News