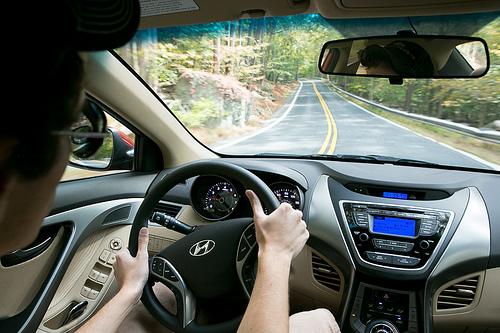 Fuel efficiency is a must for compact-car shoppers, so it's no surprise that most of the sedans in our Challenge returned impressive numbers, but one contender definitely outshone the rest. The newest kid on the block, the redesigned-for-2014 Toyota Corolla, wowed us with its observed 38.3 mpg rating. Because the 2014 Ford Focus did not have an mpg readout, we opted to use the observed mileage based on our fill-ups at the same pump for all cars, using a one-click method. We've provided the computer readouts below for comparison.
We started our trip in suburban Baltimore, Md., on four-lane thoroughfares, took a jaunt across state lines on small-town Pennsylvania roads, made a highway trek back into Maryland, and hit some urban and suburban roads. In total, we covered just more than 200 miles.
While some of the compact sedans impressed more than others, all beat their combined EPA fuel-economy rating: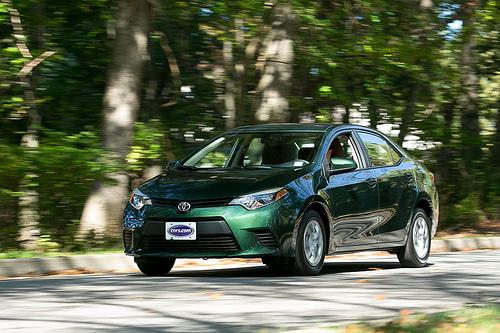 It's no surprise that the highest-rated sedan by the EPA, the Corolla, returned the best numbers in our test. Also not surprising, the sedan that returned the lowest observed fuel economy also pumped out the most horsepower. Our test Focus was equipped with a 160-hp, 2.0-liter four-cylinder and six-speed automated manual transmission. In all cases, the trip computers overestimated fuel economy. Kia's was closest, reporting 34.9 mpg with our calculated figure coming in at 34.7 mpg. Nissan's was off by much more, reporting 39.5 mpg to our calculated 34.3 mpg.
Like EPA testing, all sedans were driven in their default setup mode and not in Eco mode. Air conditioning was on for all cars and cruise control stayed off. Each driver rotated into each of the seven sedans to equalize weight and driving style. The final rating was determined by the onboard mileage computer. All the sedans used regular unleaded fuel.