It's not every day that you can hop down to your favorite car dealer and drive home in a concept car, but BMW is making that possible with the introduction of the new 2014 i8 sports coupe. While it doesn't look exactly like the 2011 EfficientDynamics coupe concept on which it is based, the second vehicle in BMW's eco-friendly "i" lineup is just about as close as one can get to the original vision while still maintaining crash-safety standards and everyday usability.
More 2013 Los Angeles Auto Show Coverage
If you think it looks dramatic in pictures, wait until you see an i8 in person. The swoopy body work is maybe the most futuristic design on the market. This is exactly the kind of car science-fiction movies predicted we'd be driving in the 21st century. It is also deceptively small; despite being a 2+2 configuration, this is truly a two-passenger sports coupe.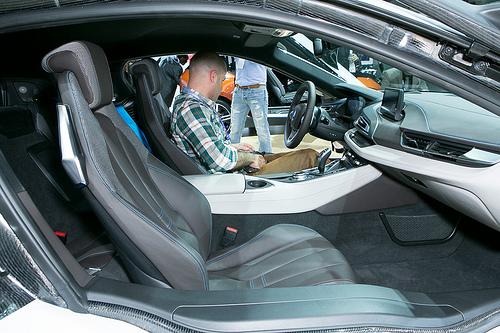 The backseat is suitable for ... well, nobody really. Even children would be difficult to fit into the tiny seats that have no legroom whatsoever. A couple small duffels would likely be the best bet, or two bags of groceries.
The driver and front passenger had better not be terribly big, either. Despite looking just as wicked inside as it does outside, passenger space is at a premium. High sills and small door openings make getting in and out a contortionist's act worthy of a Las Vegas billing. Once inside, the low roof makes taller drivers hunker down. Put another way, it makes a Subaru BRZ look positively roomy.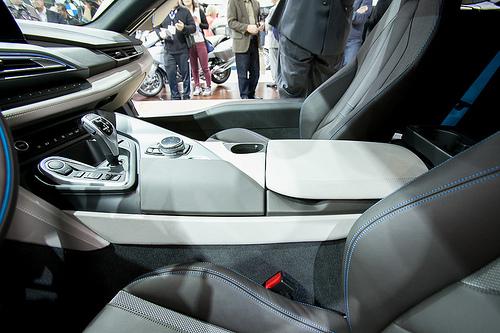 Unlike the i3 city car, however, the i8 has premium materials throughout. No exposed hemp-fiber silliness here; the i8 looks and feels like a high-dollar sports car.
Impressive features like the swing-up scissor doors add to the future-car feel of the coupe, as well. All of BMW's latest electronics are here as well, including the latest generation of iDrive. Switches and controls are all familiar BMW-style units as well, right down to the shifter.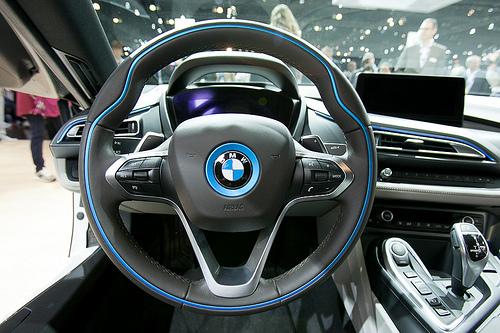 Pricing for the i8 has been set at $135,700, not including a destination fee or any federal or state incentives. It's an eye-watering price for any automobile, but given the sophistication and technology packed into the car and the stunning body work that it comes wrapped in, a few lucky (and shorter) owners are soon going to possess something truly unique.