2014 Chevrolet Spark EV: Quick Drive
Zero-emissions vehicle mandates in California and several other states have brought about a smattering of specialty electric cars, and GM has obliged with the 2014 Chevrolet Spark EV — a punchy runabout that ought to sell on its own strengths, not regulatory mandates.
Based on the Spark hatchback that hit U.S. dealers 15 months ago, the electric version is on sale in California and Oregon. We took a brief spin at a Midwest Automotive Media Association event near our Chicago offices, and GM ought to expand availability like Ford has done with the Focus Electric. The electric Spark has all the inherent issues that limit EV popularity, but as the class goes, this one's impressive.
Power hits the front wheels through a 105-kilowatt electric motor with 140 horsepower and a walloping 400 pounds-feet of torque. Hit the gas, and the Spark EV moves out — especially if you engage the drivetrain's Sport mode, which trades efficiency for sharper accelerator progression via a center-console switch. The Spark EV feels quicker than the Chevrolet Volt and Nissan's all-electric Leaf, as it's considerably lighter than both. The drivetrain easily overcomes the Spark EV's 599 pounds of extra heft over its gasoline sibling: GM cites zero-to-60 mph times of less than 8 seconds, which is more than 3 seconds quicker than what our friends at "MotorWeek" observed in a stick-shift gasoline Spark. The electric version feels that quick, and our brief drive revealed little torque steer despite all the, uh, torque.
The hatchback's drivetrain — 75 percent of which was adapted from the Volt and GM's hybrid trucks, the automaker says — packages a 21-kilowatt-hour lithium-ion battery between the cargo floor and rear axle. Like in many electric cars, the results make for a low center of gravity that minimizes body roll, and the extra weight in back gives the car a gratifying degree of sling-it-around balance. Our tester's Bridgestone Ecopia EP150 tires (185/55R15s up front, 195/55R15s in back) played along well; they're stickier than the norm for ultra-efficient tires.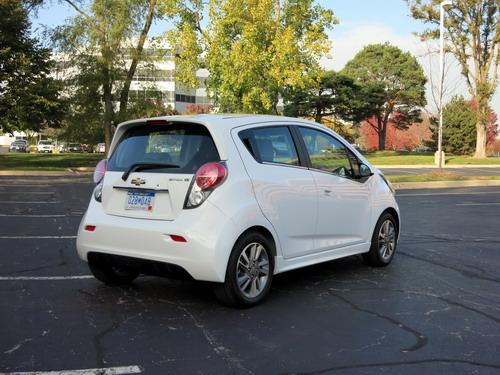 Four-wheel-disc brakes improve on the gasoline Spark's disc/drum setup, with the expected regenerative braking capability. Like in many hybrids and EVs, the results make for a touchy pedal on contact, and modulating initial braking takes some practice. But it's better than the Volt's bricklike pedal feedback, which is easily that car's worst attribute.
Inside, the Spark EV swaps conventional gauges for a screen similar to the Volt's. It shows vehicle speed and remaining range with helpful (if they prove accurate) maximum and minimum estimates based on how you drive. The right side of the screen can alternate between the Volt's efficiency-promoting accelerator/brake gauge and a real-time indicator of kilowatts used or regenerated — a sort of EV tachometer.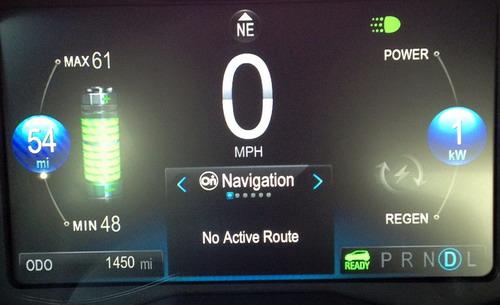 Chevrolet boasts an impressive EPA 119 mpg-equivalent, which puts the Spark EV ahead of other affordable competitors save the 121-mpg-e Scion iQ EV. The Spark EV's EPA-rated 82-mile range is competitive, but it requires a comparatively long seven hours to recharge on a 240-volt (Level 2) charger. The car accepts 120-volt household-outlet charging, though at a slow pace (nearly 17 hours from empty to full). It also takes DC quick charging, however, which GM says charges to 80 percent capacity in as little as 20 minutes. A so-called "combo" charger, which the industry has anticipated since 2012, enables all three types of charging through the same connector. It's optional.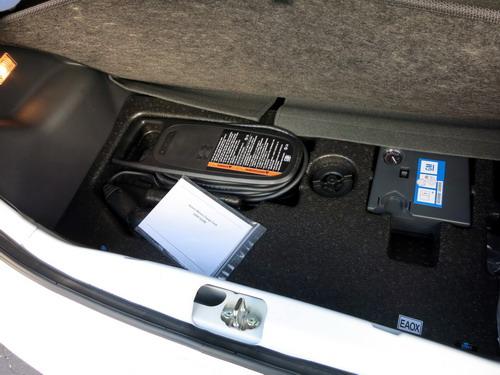 If you have an iPhone, the Spark EV joins a growing number of cars to offer Apple's Siri Eyes Free assistant. Other strengths mirror those of the gasoline Spark: a tight turning circle — albeit 33.8 feet instead of the gasoline Spark's 32.5 — and surprising cabin room. The EV hardware drops cargo volume behind the backseat to 9.6 cubic feet, which is down a bit from the gasoline Spark's 11.4 cubic feet. And we'd still like to see a telescoping steering wheel and some armrest padding on the doors. Still, the Spark EV is based on a car whose gasoline version starts at less than $13,000. After a maximum $7,500 federal tax credit, the Spark EV starts at an affordable $19,995 including destination.
Will anyone outside of the West Coast see the car? Don't count on it. The business case is "pretty tough," according to John Calabrese, GM's global vehicle engineering chief. That's a shame, but it's hard to argue when September sales for the Leaf, Focus Electric and Mitsubishi i-MiEV — all affordable EVs that sell nationwide — totaled just 2,083 cars. Gas prices, which were down 24 cents on Thursday versus a year ago, haven't helped the EV cause.
"Range anxiety is [still] a problem" for electric cars, Calabrese said. "Certain vehicles are prone to energy swings more than others."
Therein lays the difficulty of sparking much interest in GM's latest EV. And it's a shame.
Related
2014 Chevrolet Spark EV Starts Under $20K After Federal Tax Credit
Who Buys the Chevrolet Spark?
More Chevrolet Spark News