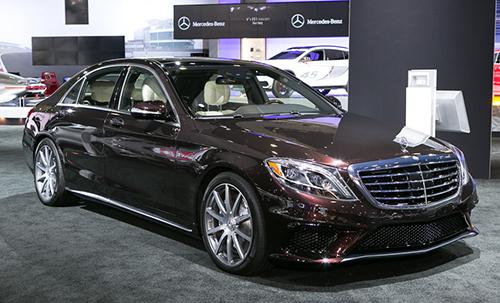 The performance-fixated 2014 Mercedes-Benz S63 AMG debuted this week at the 2013 Los Angeles Auto Show — and not a moment too soon, if you ask us. What did Mercedes expect us to do in the meantime? Slum it with the 449-horsepower, 516 pounds-feet of torque and 5.14-second zero-to-60 mph time of the regular S-Class' 4.7-liter V-8? At last, we can get an up-close-and-personal look at the S63 AMG and more accurately imagine the thrill of the 577-hp and 664 pounds-feet of torque from its 5.7-liter V-8 propelling us from zero to 60 in a mere 3.9 seconds. Time is money, after all.
More 2013 Los Angeles Auto Show Coverage
And fortunately, for our money — $140,425 (including destination) to start — we'll get much more than our need for speed fulfilled. Luxury exterior flourishes include lightweight 19- or 20-inch AMG wheels, high-gloss black trim and unique badging. Inside there are special AMG sport seats, unique milled metal trim adorning the instrument panel and doors, a 12.3-inch display screen in place of gauges and exclusive AMG-style graphics. Check out the gallery below; Cars.com photos by Evan Sears.