2015 Mercedes-Benz GLA250 Photo Gallery (28 Photos)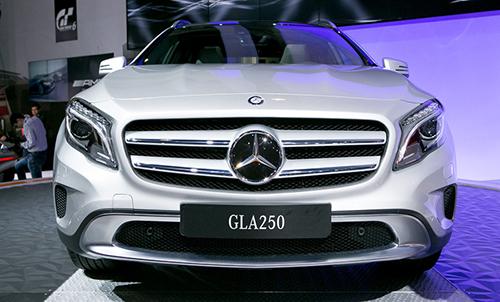 When last we saw the 2015 Mercedes-Benz GLA-Class, the compact crossover was readying for its September debut at the 2013 Frankfurt Motor Show in Germany. Now the front-wheel-drive version, the GLA250, is bowing at the 2013 Los Angeles Auto Show more than a year ahead of its scheduled early-2015 sales date (the all-wheel-drive version is set for fall 2014). Cars.com reviewer Jennifer Geiger previously noted that the GLA-Class' looks are quintessentially Mercedes, but unique in that they're a blend of the exterior styling of the automaker's SUVs and coupes, similar to the BMW X4 concept also currently in L.A. In the cabin of the luxury crossover are a prominently positioned glossy black multimedia panel and Mercedes-hallmark air vents integrated into a matte-finish, burled-wood multilayered dash.
More 2013 Los Angeles Auto Show Coverage
Under the hood is a 2.0-liter turbocharged four-cylinder mated to a seven-speed dual-clutch automated manual. It's good for 208 horsepower and 258 pounds-feet of torque. Mercedes quotes a zero-to-60 mph time of 6.4 seconds and a top speed of 145 mph. Check out the photo gallery below; photos by Cars.com's Evan Sears.