2015 Mercedes-Benz GLA250: Up Close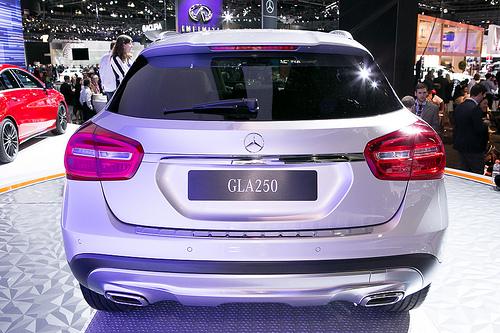 The latest addition to a growing class of shrinking vehicles, the Mercedes-Benz GLA250 compact (or is it subcompact?) crossover looks like a cross between a wagon and a crossover, and not necessarily in a good way.
More 2013 Los Angeles Auto Show Coverage
In person, the profile looks a bit awkward — sort of like a crossover with an exceptionally short greenhouse, and a rear end that tapers as sharply as a common hatchback car rather than a wagon or an SUV. By comparison — to my eye, at least — the competing BMW X1 looks more like a downsized, slightly more wagonized X3.
The front seat in the Mercedes is roomy enough, and I think the interior quality is pretty good, though there's dissension about the CLA-Class car on which this model is built, so it's sure to carry over here. There are lots of soft-touch, low-gloss surfaces, even low on the front doors. The center console plastic is noticeably very hard stuff, though. The auto show car had matte-finish wood trim, which I always seem to like. Some folks don't. Ditto for the floating display mid-dash, which looks good to me but appears to some folks like a tacked-in afterthought.
The backseat seems accommodating, but it's partly a trick: True, at 6 feet tall, my knees weren't touching the front seat's backrest, but it's partly because the seat sits low to the floor, so my knees were raised to a level I'd probably find uncomfortable after more than 10 to 20 minutes. My hair was touching the ceiling, so it's likely I'd brain myself if the GLA were to traverse bad bumps.
The show car had a panoramic moonroof, which should increase the feeling of roominess, but rather than a continuous piece of glass, there are two separate ones, and the roof section between them is substantial, bulky and perfectly positioned to make the large moonroof seem, well, less large to backseat passengers.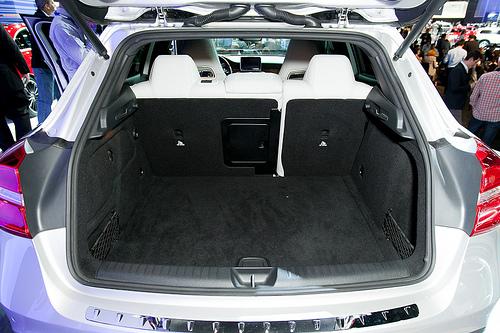 The cargo area behind the backseat certainly seems usable — and roomier than I expected, given the rear end's dramatic rake. The show car had a power liftgate.
We can't draw any strong conclusions until we drive this thing when it comes out in autumn 2014. That's always true, but especially in this case because of its relation to the CLA-Class, the ride quality of which strikes many as too firm for a car. Crossovers seldom ride softer than cars, but maybe the same performance would seem more in character in this body style.