AAA: Open Your Eyes to the Dangers of Drowsy Driving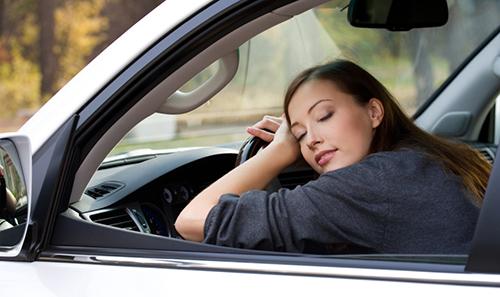 Highway-safety advocates want motorists to wake up and alert themselves to the dangers of drowsy driving. In conjunction with the National Sleep Foundation's Drowsy Driving Prevention Week, which runs through Sunday, AAA has released the results of a study that reveals an alarming number of snoozy drivers. AAA collected the data as part of its 2013 Traffic Safety Culture Index, sampling 2,325 drivers ages 16 and older who reported driving in the past 30 days.
The results showed that 28 percent of drivers reported being so tired that they had difficulty keeping their eyes open while driving in the past month. One-third of motorists ages 19-24 reported driving dangerously drowsy in the past 30 days, the highest rate of all surveyed age groups. Meanwhile, the oldest drivers (75 and up) and the youngest (16-18) proved least likely to report having driven drowsy in the previous month, at 22 percent each. An estimated 17 percent of fatal crashes, 13 percent of crashes resulting in hospitalization and 7 percent of all crashes requiring a tow truck involve a drowsy driver, AAA reported.
Despite sizable numbers of motorists admitting fatigue behind the wheel, the majority surveyed indicated that they know it's unsafe. Ninety-five percent of drivers reported believing it is "somewhat or completely unacceptable" to drive when they are so tired that it's difficult to keep their eyes open, and 83 percent believe drowsy drivers pose a "somewhat or very serious threat" to their personal safety.
Peter Kissinger, president and CEO of the AAA Foundation for Traffic Safety, said drowsy driving is dangerous because it slows reaction time, impairs vision and causes lapses in judgment — similar to driving drunk. "Drowsy driving remains a significant threat to the motoring public, with many drivers underestimating the problem of driving while extremely tired, and overestimating their ability to deal with it," Kissinger said. "We know that people can't reliably predict when they are going to fall asleep, and a very fatigued driver may fall asleep for several seconds without even realizing it."
AAA urges drowsy motorists to stop driving and find a safe place to pull over. Warning signs that you're too tired to drive include:
Inability to recall the last few miles traveled
Wandering thoughts
Difficulty focusing or keeping your eyes open
Feeling as though your head is heavy
Drifting out of your lane
Yawning repeatedly
Accidental tailgating
Missing traffic signals
AAA offers the following tips to remain alert while driving:
Getting at least seven hours of sleep, especially the night before a long drive
Driving at times you're normally awake
Scheduling a break every two hours or 100 miles
Avoiding heavy foods
Traveling with an alert passenger and taking turns at the wheel
Avoiding medications that cause impairment
Related
NHTSA: Traffic Deaths Fell 4.2 Percent in First Half of 2013

Are You Ready for the End of Daylight Saving Time?

More Safety News on Cars.com