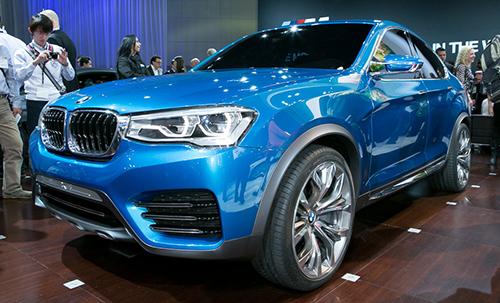 It's a "coupe" with four doors and a hatchback. It's a crossover SUV that insists on being called an SAV. And, as Cars.com reviewer Aaron D. Bragman previously observed when we saw it last spring during the 2013 Shanghai auto show, it bears more than a passing resemblance to the '80s-fabulous AMC Eagle. The X4 concept, BMW's latest boutiquey offering and a downsized counterpart to the X6, is now looking to confound Americans in its U.S. debut this week at the 2013 Los Angeles Auto Show. Slated to launch in 2014, BMW's latest "sport activity vehicle" blends the qualities of an SAV with those of a coupe (read: five-door).
More 2013 Los Angeles Auto Show Coverage
The horizontally biased, width-accentuating exterior styling of the X4 suggests the stocky athleticism of a no-neck, fireplug-physiqued high school wrestler crouched on the mat and ready to pounce. Meanwhile, it also wears classic BMW features such as a kidney grille and stylized twin circular headlights, as well as 21-inch aluminum-alloy wheels. Check out the photo gallery below; Cars.com photos by Evan Sears.