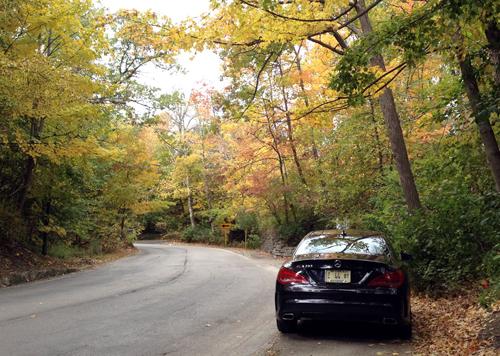 One of the best parts about living in a northern state is watching the leaves change color every autumn.
It makes driving along country roads a Zen-like experience. Even when I turn down my own street I'm sometimes taken aback by the vibrant scenery. Raking all the leaves up, however, is a different matter entirely.
I asked my fellow editors here at Cars.com to take a photo or two of the changing colors for a photo gallery highlighting some of the cars we've recently had in our test fleet. They were taken in Illinois, Wisconsin and Minnesota. Enjoy.
Click on any photo for a larger version and to scroll through the entire gallery.

Consumer Affairs Editor Kelsey Mays found a picture-perfect road for driving the 2014 Mercedes-Benz CLA250.
I generally snap a picture of every test car in my driveway — or parked in front of my house — so I had to get creative for shooting our long-term 2013 Honda Civic.
On a trip home, Associate Editor Robby DeGraff shot the 2013 Nissan Juke NISMO by some rather sparse woods in Wisconsin.
If we did this list chronologically, Senior Family Editor Kristin Varela's shot of the 2014 Kia Soul showing a tree or two changing colors early in the season at a drive event in Minnesota would be first.
Audi has gone with a white exterior for a lot of its press cars lately. The 2014 Q5 TDI's color offers a nice contrast to the half-bare tree on my next-door neighbor's lot.
Research Editor Mike Hanley took this impressive shot of the Tesla Model S last fall. This photo gallery is a good excuse for more Tesla photos, so why not include it here?
Yep, here's another one in front of my house. This is the electric Nissan Leaf, and it looks like a big tree is sprouting out of its roof. Kind of appropriate.
I didn't plan this one. It almost looks like it could be an advertisement for Toyota, but this is just a photo of my kids playing in the leaves at my house while the 2014 Corolla happened to be parked in front. At least there are some kids who don't mind raking a few leaves ... we'll see how they feel when they're teenagers.
Related
More Photo Galleries
Are You Ready for the End of Daylight Saving Time?
How To Remove Tree Sap From Your Car