Ford Edge Concept at the 2013 L.A. Auto Show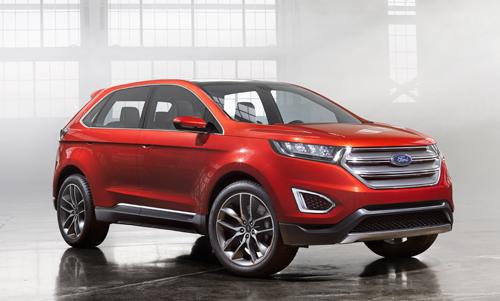 Looks like: BMW X5 + Hyundai Santa Fe Sport + Ford grille
Defining characteristics: Hexagonal grille, LED lights aplenty
Ridiculous features: Self-parking via remote, nubuck leather dashboard
Chance of being mass-produced: Count on it; Ford says this previews the next-gen Edge
On the eve of the 2013 Los Angeles Auto Show, Ford unveiled an Edge concept that likely gives a solid idea of what the successor of the midsize SUV will look like. Like many concepts, it boasts a tour de force of technology, from an obstacle-avoidance system that can brake and swerve around a potential collision — dubious as that may sometimes be — to fully automated parking that would allow you to pull up to a narrow parking spot, get out and let the car park itself, all at the push of a keyfob button. It does not, unfortunately, escape thugs with rockets or deployable metal spikes while you sit in the backseat.
More 2013 Los Angeles Auto Show Coverage
Technology aside, the Edge concept looks fairly close to production. Mechanical technology includes active grille shutters, engine shutoff at idle and adaptive steering that can change ratio and assist. The last is a technology popularized by BMW's Active Steering and, no doubt recognizing the point, Ford marketing director Jacques Brent said it would be "the ultimate driving experience in terms of steering."
Like its predecessor, the new Edge has a beefy stance with plenty of sheet metal leading up to the windows. The D-pillar kicks up a bit more than on today's Edge. Its beltline is flat all the way toward the rear. Intricate light-work front and rear includes LED piping in back and crystalline cubes up front, also lit by LEDs. Chrome turn signals illuminate amber through tiny holes in the framework; all of that is part of a sequential turn signal that starts in the headlight and extends, in three stages a la the Mustang, toward the mirror. The concept wears Copper Flame paint, which Ford designer Kevin George said paid tribute to the launch color for the '07 Edge.
Inside, the cabin's broad dashboard has genuine leather stitching atop the gauges, as well as top-end nubuck leather atop the doors and dashboard. The backseat has a trio of tablet-like screens scattered across the front seatbacks and center armrest. The dashboard controls appear to employ Ford's MyFord Touch capacitive-touch buttons, but Ford media materials describe "premium mechanical switchgear" center controls; a Ford representative at the event told us real buttons will be back. It makes sense: Ford has promised a return to buttons and knobs in future variants of its problematic MyFord Touch controls, and it's a move we've already seen on the new MKC from the automaker's Lincoln division.
Officials were mum on drivetrain details, but press materials said the concept hosts Ford's next-generation turbocharged EcoBoost engines. If dimensions play out to a production model, the next Edge should be about the same size as its predecessor.
The SUV rides a 112.1-inch wheelbase (0.9 inch longer than the current Edge) to stand 184.6 inches long and 66.9 inches tall, both changed by less than a half-inch.
Ford Executive Vice President and President of the Americas Joe Hinrichs said this concept previews the next-gen Edge, and a redesign would come none too soon for the five-passenger SUV. It's been around since November 2006, though Ford extended its popularity with an aggressive refresh for 2011. Still, the automaker points toward ever-higher sales for the model, which garnered nearly 130,000 sales in 2012, about as many as it did in 2007, its first full year on the market.
Click on any photo for a larger version.