Honda FCEV Concept Photo Gallery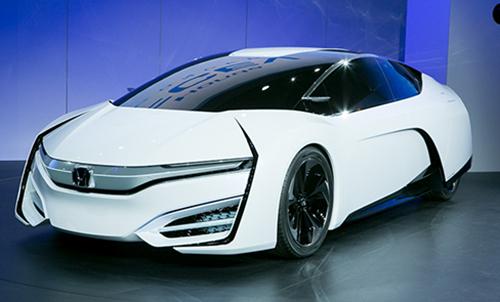 Its sleek, clean, utopian-future looks suggest something Conan O'Brien might envision earthlings driving "in the year 2000." But Honda's not joking when it says its Fuel-Cell Electric Vehicle Concept, which debuted Wednesday at the 2013 Los Angeles Auto Show, will be a reality by 2015. Honda says the show car expresses a potential styling direction for its next-generation FCEV, and that, "While this car is a concept, it points toward a very real future." By the time the car reaches production, Honda says, it will boast the world's first application of a fuel-cell powertrain packaged entirely in the engine space of the vehicle; this will allow for expanded cabin room and greater potential application of the technology to multiple vehicle types.
More 2013 Los Angeles Auto Show Coverage
Honda says technological advancements have led to major increases in power output to 100 kilowatts while reducing the fuel-cell stack size by a third compared with the automaker's existing fuel-cell car, the FCX Clarity. The production FCEV will deliver an anticipated 300-mile driving range with a quick-fueling time of about 3 minutes and will seat five thanks to powertrain-space savings. Check out the photo gallery below; Cars.com photos by Evan Sears.