Mazda Turns Up Connectivity With New System
Mazda's new multimedia system, available in the 2014 Mazda3, uses a bold approach for controlling multimedia and navigation functions. While many compact competitors rely on touch-screens alone for their advanced multimedia offerings, the Mazda3's Connect system features a single controller knob for various media and navigation functions, similar to Audi and BMW setups.
The knob-based Connect and accompanying 7-inch touch-screen work surprisingly well in the compact Mazda3, considering even luxury brands sometimes struggle with the knob-based approach.
"I was actually quite surprised by it," says Cars.com Detroit Bureau Chief Aaron Bragman. "The layout reminds me of Audi's treatment for MMI [Multi Media Interface] — a radio volume knob that falls easily at hand, a large scrolling knob to select things and most important: an easy-to-use 'back' button."
The "Commander control dial," as Mazda calls it, debuted on the 2014 Mazda6. Connect comes with the 2014 Mazda3 i Touring's $1,600 Technology Package with navigation and upgraded stereo — a Mazda 3 i Touring sedan starts at $20,390 with destination. The system is standard on i Grand Touring models and more-powerful Mazda3 s variants.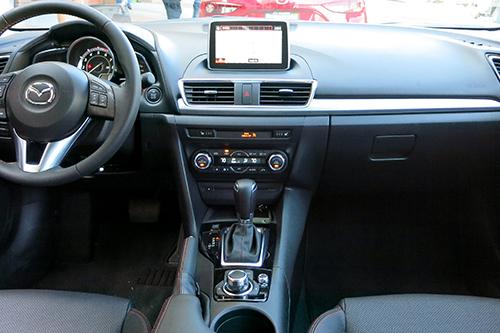 Mazda3's Connect is intuitive thanks to its easy-to-use layout and strategically placed buttons for home, music, navigation, back and favorites. There are an appropriate number of physical buttons, though track and seek buttons are missing on the main interface and these functions can only be controlled via the knob or steering-wheel buttons.
Like the Dodge Dart's 8.4-inch touch-screen or the Ford Focus' MyFord Touch, Connect brings in a host of smartphone connectivity. Connect facilitates internet streaming music, USB inputs, text message reading and responding as well as Facebook and Twitter updates.
The 7-inch touch-screen makes ingesting all this integration easy with large text and high-quality graphics. Cars.com News Editor Jennifer Geiger was especially taken by the Mazda3's Pandora streaming music integration:
"The Pandora internet radio integration is the best I've ever used," says Geiger. "Once I paired my phone, loading the app was easy and the functionality and display were impressive. You could thumbs up a song, skip a song, navigate to another channel or view the album info all right on the screen instead of on your phone."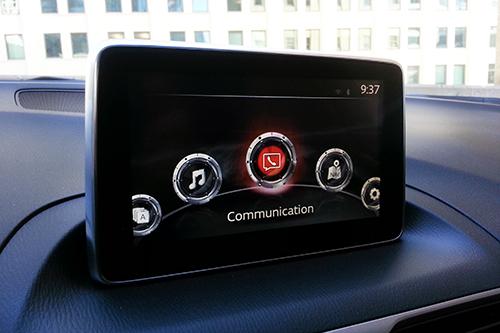 One area where the Mazda's system distinguishes itself from similar luxury systems is with its touch-screen. Most others are displays only. But even with the touch-screen usability, it's location on top of the dashboard isn't the most user friendly.
"I thought the screen size [and wide shape] was great, but it struck me as a bit of a stretch to use," Geiger says.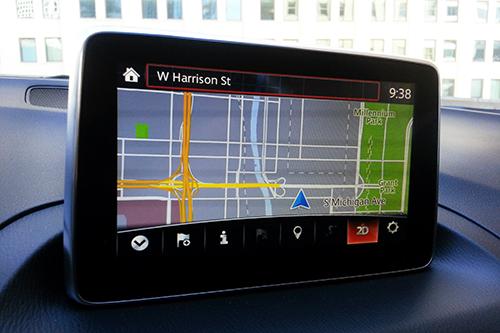 Navigation is another sore spot for Connect. Entering destinations proved overly complicated for many editors, plus the nav system often struggled to acquire a precise location; sometimes it placed the car on the wrong street. Additionally, the 2-D map shows very few street names. As Cars.com editor Kelsey Mays writes in his review of the 2014 Mazda3:
"Our test car's navigation had ample street labels in some situations but too few in others."
Viewing the maps 3-D provides significantly more detailed street information. The navigation does have one noteworthy feature called out by a few editors: the next street or guidance is displayed at the top of the screen even when the map isn't displayed.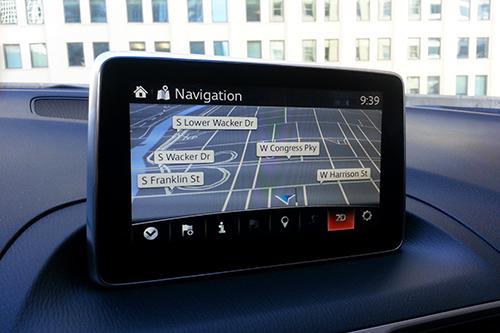 Connect is a large leap forward for Mazda, with a potential to fail miserably considering how hit-or-miss the multifunction knobs are elsewhere. In a lot of ways, we enjoyed the system, but navigation is an important feature and we were left wanting more from Connect.
Related
2014 Mazda3 Review
More Mazda3 News
2014 Mazda3: More Photos