Mercedes-Benz Unveils S-Class AMG and Final Edition SLS AMG at the L.A. Auto Show


On the heels of its release of the S63 AMG full-size sedan, Mercedes-Benz has rolled out the ultimate S-Class, a dual-turbocharged V-12-powered S65 AMG.
More 2013 Los Angeles Auto Show Coverage
As the S-Class ramps up, the SLS AMG supercar winds down: The SLS AMG GT enters its last model year for 2014 with a Final Edition. Here's a rundown of the super-powered duo.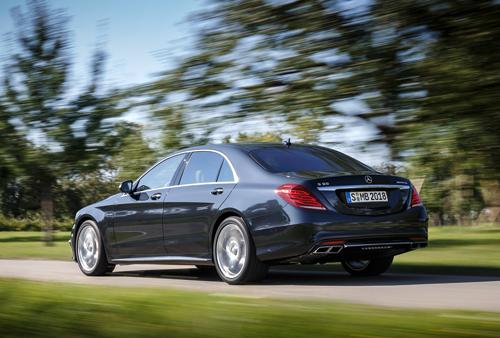 Where the S63 AMG's turbocharged 5.5-liter V-8 produces "only" 577 horsepower and 664 pounds-feet of torque, the S65's turbo V-12 makes 621 hp and 738 pounds-feet of torque. The zero-to-60-mph time is a claimed 4.2 seconds. Mercedes says the hand-built engine features an aluminum crankcase, a forged alloy crankshaft, multispark ignition and an air-to-liquid intercooler.
The power plant drives all four wheels through a seven-speed Speedshift Plus 7G-Tronic automatic transmission that has multiple drive modes. The car rides on an AMG version of the S-Class' Magic Body Control suspension, which adjusts damping pre-emptively based on road conditions as viewed by a forward-facing camera system. Ceramic brakes are an option.
Like the S63, the S65 uses lithium-ion technology for both the starter and accessory batteries, saving about 44 pounds over the standard S-Class equipment.
The S65 is distinguished primarily by the chrome grates over its large lower grille openings and a chrome splitter below them. (Gloss black is also an option.) Several 20-inch wheels are available.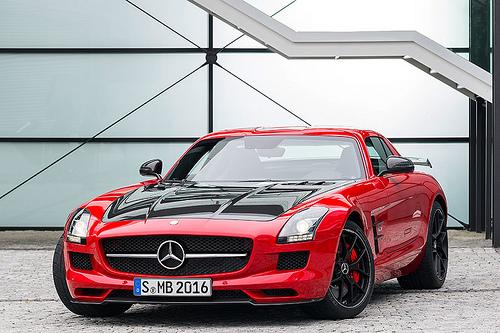 The SLS AMG GT Final Edition, of which 350 will be produced, is adorned with exposed carbon fiber on the hood, front splitter and rear spoiler. The glossy carbon-fiber elements really stood out on an auto-show car with a matte-gray paint job. The hood has an air outlet to decrease front-end lift.
Two wheel types are available, described by Mercedes as inlaid in matte black with the spokes and rim flange in a high-sheen finish or completely painted matte black highlighted by a pencil-thin high-sheen rim flange.