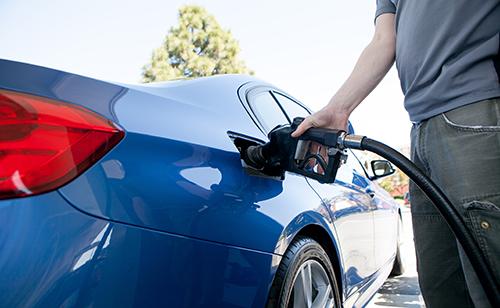 Following a dip in September in the average fuel economy of new vehicles sold in the U.S., the so-called window-sticker value rebounded in October. Researchers at the University of Michigan Transportation Research Institute — who calculate average sales-weighted fuel economy using monthly sales of individual models of cars, SUVs, vans and pickup trucks, as well as respective models' EPA fuel-economy ratings — reported last month's value had returned to 24.8 mpg, where it peaked in August before falling 0.2 mpg to 24.6 in September due to reduced pump prices of late.
"This improvement likely reflects the net effect of two opposing trends: the improved fuel economy of model-year 2014 vehicles, and the decreased demand for fuel-efficient vehicles because of the recent reduction in the price of gasoline," the institute said in a statement. "Vehicle fuel economy is up 4.7 mpg since October 2007 (the first month of our monitoring)."
Meanwhile, motorists' greenhouse-gas emissions again continued their steady descent, according to the University of Michigan's Eco-Driving Index; the index estimates the monthly amount of greenhouse gases produced by an individual U.S. driver who has purchased a new light-duty vehicle that month. October's EDI stands at 0.8, unchanged from the previous month but still a 20 percent improvement since October 2007. EDI takes into account both the fuel used per distance driven and the amount of driving.
Related
Fuel Economy Falls Along With Gas Prices
AAA: Gas Price Increase Is Temporary
More Fuel Efficiency News on Cars.com