Nissan Sentra NISMO Concept at the 2013 L.A. Auto Show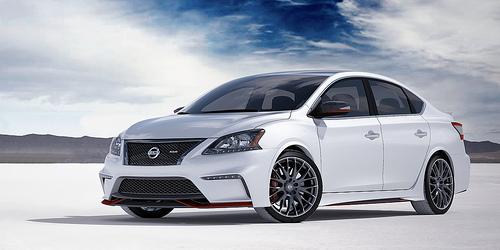 Looks like: Nissan says the look is "more sophisticated and confident than 'in-your-face' boy racer."
Defining characteristics: Amped up body and NISMO trim and badges
Ridiculous features: This Sentra is capable of 240 hp
Chance of being mass-produced: Undetermined, but Nissan's given the NISMO treatment to several vehicles, and it doesn't look like Sentra is out of the question.
Usually NISMO spells cool for Nissan, but it'll take a lot to convince us that the latest car to get the automaker's motorsports treatment passes muster. Nissan unveiled the Sentra NISMO concept at the 2013 Los Angeles Auto Show, just a couple days after introducing a NISMO vehicle at the opposite end of the spectrum, the GT-R NISMO.
More 2013 Los Angeles Auto Show Coverage
Based on the brand's less than impressive compact car, the Sentra NISMO's specs inspire some confidence. The Sentra NISMO rides on a sport-tuned suspension and 19-inch aluminium-alloy wheels with red-painted Brembo-brand brake calipers. Under the hood is the Juke NISMO's turbocharged 1.8-liter four-cylinder; it makes 240 horsepower in this application, a definite step up from the production Sentra's anemic 130-hp, 1.8-liter four cylinder. A six-speed manual is the sole transmission.
The concept wears a pumped up version of the regular Sentra's grille, along with smoked-out lights, a wide lower front spoiler, oversized fender flares and large dual exhaust tips. In back there's a rear spoiler and a center-mounted fog lamp, similar to the look of the 370Z sports car. NISMO red accents and stripes dot the exterior and badges trim the interior.
Inside, there's a NISMO-style leather- and Alcantara-wrapped steering wheel with red leather at the 12 o'clock position. A satin carbon fiber finish trims the instrument cluster, along with dark chrome accents.
No word yet on if this amped up little compact will become a reality, but executives hint at the prospect: "The NISMO name is not to be taken lightly. Neither are vehicles that wear the NISMO badge," said Pierre Loing, Nissan vice president of product planning, in a statement.