Toyota Plans Updated Camry Next Year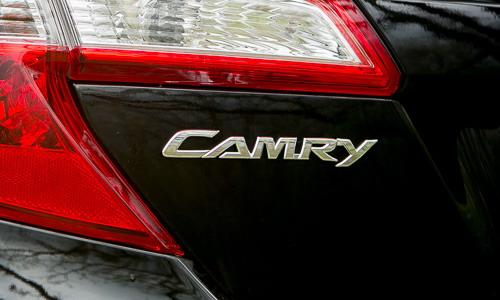 Expect significant updates to the Toyota Camry in what's likely to be a 2015 model-year freshening. That's what Bill Fay, Toyota division's general manager, told the Detroit News at this month's 2013 Los Angeles Auto Show.
The seventh-generation Camry hit dealers in October 2011 as a 2012 model. Since then, it's faced stiff competition from a redesigned Honda Accord, Nissan Altima and Ford Fusion. Chevrolet tweaked the Malibu after a less-than-stellar 2013 redesign, and Hyundai will debut a 2015 Sonata — either a redesign or major refresh — sometime this auto-show season.
Still, the Camry has maintained a comfortable sales lead. Shoppers bought 348,134 Camry and Camry Hybrid sedans year-to-date through October. The next-highest Accord fell short by 40,870 — and that counts sedan and coupe sales, which Honda reports under as a single figure.
Toyota wants to maintain the lead. "It's safe to say we'll be doing something with it," Fay told the Detroit News. "We'll be paying significant attention to Camry next year."
The 2014 Camry is on sale now, and 2015 seems too early for a full redesign. We expect a refresh on par with the previous Camry's midcycle update for 2010. Reliability remains strong for the current generation, but we'd like to see structural changes to improve the car's dismal performance in the Insurance Institute for Highway Safety's new small-overlap crash test.
Inconsistent cabin materials, ergonomic foibles and no-grip tires landed a four-cylinder Camry XLE in the bottom half of Cars.com's $26,000 midsize sedan comparison. Toyota would do well to improve in all three areas — oh, and bring back the one-touch power windows it revoked with the 2012 redesign.
What updates would you like to see? Weigh in below.
Related
Research the 2014 Toyota Camry
Cars.com $26,000 Midsize Sedan Showdown
More Toyota News