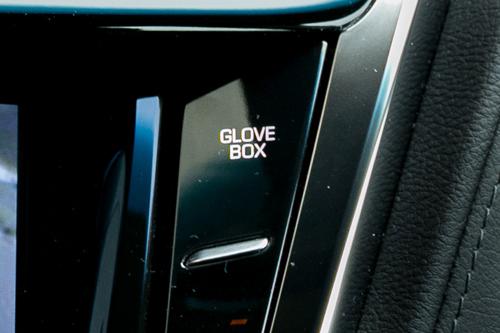 One look and it's easy to tell what this button does, but its obviousness doesn't make it any less odd. Actually, it's not really a button; it's more of a touch-sensitive panel. In fact, it's pretty tough to find any traditional buttons in the 2014 Cadillac CTS.
For years, automakers have been moving away from real mechanical buttons and knobs toward touch-screens and flat-panel touch-sensitive controls. We're used to seeing climate knobs, audio dials and vehicle info menus increasingly controlled via touch, but Cadillac has taken the phenomenon to new levels with the 2014 CTS' glove box. And the button isn't even on the glove box.
Cadillac describes it as an "electronically locking glove box," and the button replaces the traditional glove box latch or lever mechanism. But it isn't on the glove box. Rather, it's above it and off to the side, mixed in with the other multimedia system controls. Once you find it, it works fine.
By itself, it might seem a bit odd, but it actually fits in with the rest of the CTS' gadgets. Heck, even the new sedan's cupholder covers are motorized. But what's the point?
"The glove box button is a unique luxury feature. Is it necessary? No. But neither is the automatic cupholder cover between the front seats. It's unexpected, an expressive small touch of technology and design you don't find in other cars or brands," said Brian Corbett from Cadillac Communications.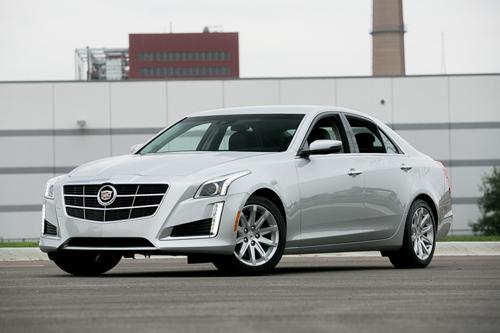 Are drivers getting so lazy that gizmos like these actually sell cars? Cadillac seems to think it can't hurt: The feature is already on the
XTS
and will also be in the
2015 Escalade
and new
ELR
extended-range electric vehicle.
Related
2014 Cadillac CTS Cars.com Review
What Does This Button Do
More Cadillac News