2014 Toyota Tundra: Family Review Checklist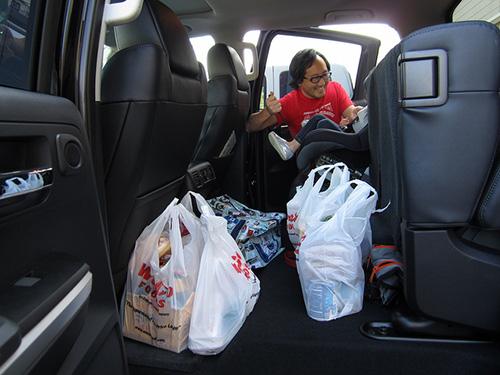 I had no idea what a luxuriously convenient workhorse the 2014 Toyota Tundra pickup truck would be. There weren't any doubts that the Tundra could handle family life, but I never expected it to do it so easily.
My test truck was a Tundra Platinum 5.7-liter V-8 CrewMax 4x4. For 2014, Toyota's full-size pickup received a new exterior look and updates to the interior's center stack and gauges.
With a 381-horsepower, 5.7-liter V-8 engine and a hulking exterior, the Tundra is a much smoother ride than you might think. It seemed massive on the crowded freeways of Los Angeles; I was anticipating stiff shoulders from trying to wrangle this beast on the road. In the end, I didn't even break a fingernail. With its standard backup camera and front and rear parking sensors, the Tundra is manageable on the streets and hassle-free in parking lots.
My test truck had the CrewMax cab. This gave rear passengers an astounding 42.3 inches of legroom. It's so roomy back there that my stroller fit in the cab after folding the 60/40-split rear seat. I could've used the truck bed for the stroller, but this was more convenient.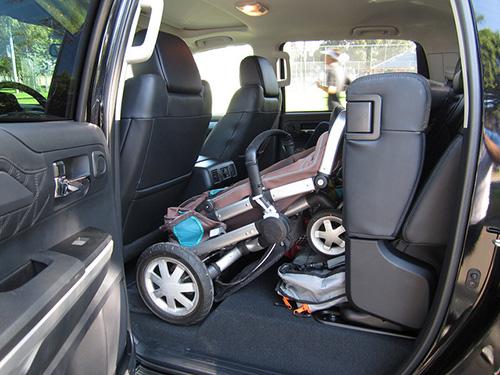 However, what I really enjoyed most about the Tundra was being able to carpool in it. My daughter and I enjoy life on the go in Los Angeles, but with growing families and additional child-safety seats, we can't always carpool with friends like we used to. The Tundra easily accommodated three car seats across the backseat, not to mention a parent crouching in the backseat while buckling up the kids. She could almost stand up inside the cab.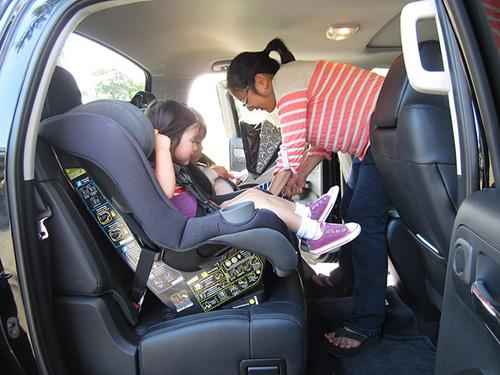 We installed two forward-facing convertibles side by side in the Tundra — one behind the passenger seat and one in the middle position — and after the toddlers were all set to go, we easily installed a rear-facing infant seat. The Tundra has two sets of lower Latch anchors in the outboard seats. The toddlers (ages 2 and 3) enjoyed the "game" of climbing in the truck; it wasn't always quick, but they got in with no complaints, thanks to the optional running boards. Shorter moms and dads may find reaching up to buckle the kids in a hassle, but both my 5-foot-7-inch husband and I at 5 feet 3 inches got along fine.
With the chops to tow a toy — up to 9,500 pounds when properly equipped — and the luxuries to make day-to-day commutes more enjoyable, the Tundra can hit a sweet spot for many families. The price isn't so sweet, though. My test truck cost $49,160. For that kind of money, you can get a fully loaded 2014 Honda Odyssey or an entry-level 2014 Audi Q7 crossover.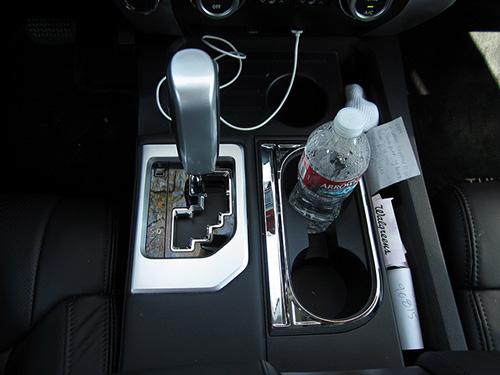 The center console was big enough to stash my purse and my friend's BabyBjorn baby carrier, and the convenient runner to the side of the front cupholders held my receipts and to-do list for the day. What I envisioned to be a utilitarian snooze fest inside ended up much cushier than I'd expected.
The Tundra was a great ride all around — except when I had to stop at the gas station. My test truck gets an EPA-estimated 13/17/15 mpg city/highway/combined. However, I ended my week averaging 10 mpg. If your family can afford that sort of fuel economy, there's a lot to love about the 2014 Tundra.
Related
All You Need To Know About the 2014 Toyota Tundra
2014 Toyota Tundra Video
More Family News