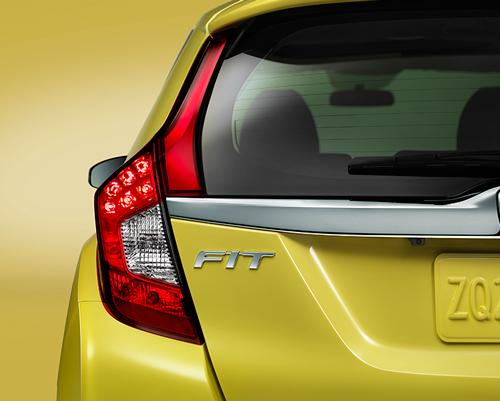 Honda announced that it will unveil the new 2015 Fit subcompact at next month's North American International Auto Show in Detroit. The redesigned model will make its North American debut at the show and go on sale later in the year.
The new Fit is indeed an all-new vehicle; it rides on a new platform and features new engines that Honda says are both more powerful and efficient. The 2015 model is slightly more spacious inside than the outgoing one, but keeps the Fit's tidy overall dimensions and innovative interior seating and cargo flexibility. Exact details of the Fit's specifications will be made public when the model is officially unveiled, but until then Honda has released a teaser photo of the car's taillight.
In the past, Honda has been constrained in its ability to sell Fits partly due to the subcompact's global popularity and partly due to the unfavorable exchange rate that made every imported, made-in-Japan Fit a barely profitable sale for the company. That changes this year as 2015 Fits will be made at a brand-new factory in Celaya, Mexico. The opening of the plant means that 95 percent of Hondas sold in North America will also be built in North America, according to the company.
Related
2013 Honda Fit Video
2013 Honda Fit Car Seat Check
Research the 2013 Honda Fit