Auto Exports' Rise Continues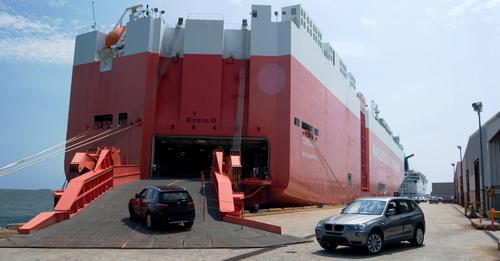 We've known that U.S. automotive exports are increasing, but now the Detroit News reports the country could export more cars than ever before this year. Auto exports could reach 2 million cars and trucks in 2013, up from around 1.8 million in 2012. Most will come from GM, Ford and Chrysler, the News reported.
American-Made Index: The Role of Exports
That makes sense. Matt Blunt, president of the Detroit Three-backed American Automotive Policy Council, told us in June that AAPC's member companies exported some 18 percent of all the cars they built in the U.S. in 2012. American auto exports from all automakers, meanwhile, increased 82 percent between 2009 and 2012, according to the International Trade Commission.
Mexico and Canada account for the lion's share — 49 percent — of U.S. auto exports these days, but that's down from 80 percent in 2004, according to the Detroit News. Taking their place are a lot of overseas countries. U.S.-built cars shipped to China are nearly six times their 2009 levels, and the Middle East, Africa and South America could get larger chunks down the road.
But that could all be temporary, as currency fluctuations and increasing shipping costs put new barriers on trade — even as new free-trade proposals aim to reduce them. Automakers increasingly invest in plants across local markets that allow them to build cars in the regions where shoppers buy them, whether it's Tennessee or Thailand.
U.S. auto imports eclipse exports by a long shot, to be sure; the trade deficit still tops $100 billion. But the margin is shrinking, according to the Detroit News.
Related
America the Exporter
The Cars.com American-Made Index
More Industry News