Gas Prices Start to Reverse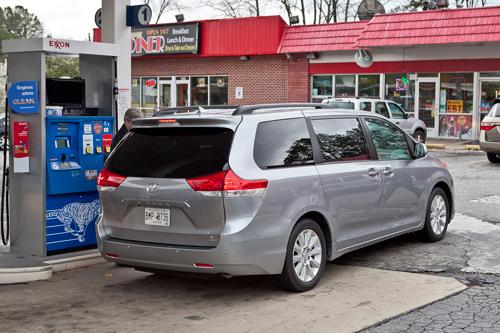 Gas prices did a U-turn just before Thanksgiving and started heading downward again, ending a two-week streak of rising pump prices.
The national average price for regular unleaded gas Thursday was $3.25 per gallon, according to the AAA Daily Fuel Gauge Report, down 3 cents from a week earlier and 13 cents from a year ago. That is still a penny per gallon more than Americans paid on average a month ago, but AAA predicts prices will keep falling.
A number of Gulf Coast refineries had shut down for planned and unplanned maintenance, AAA said, helping spark the recent price increase. Those refineries are now operating again; wholesale gasoline prices have fallen and oil prices have remained below $100 per barrel for seven weeks, so it's only a matter of time before consumers should find cheaper prices at the pump, AAA said.
Missouri continued to have the lowest average price, $2.93 per gallon, followed by Oklahoma at $2.96 and Kansas at $3.00, but other states are coming closer to the $3 level. The average price in Minnesota and Montana was $3.03, and in Ohio it was $3.08 after pump prices fell more than 10 cents per gallon during the previous week.
The highest prices were in Hawaii, $3.93; Alaska, $3.66; Connecticut, $3.65; and New York, $3.64. Alaska's average price has fallen the past two weeks, but Connecticut's and New York's have climbed.
AAA noted that prices increased the past month in about half the states, but in several states, prices declined by double digits and fell more than 20 cents per gallon in Montana, Utah and Idaho.
Related
2013 Honda Civic Long-Term Mileage Update
Chicago Tollway Speeding Renews Speed-Limit Debate
How to Transport Your Christmas Tree