Survey: 40 Percent of Households Could Use EVs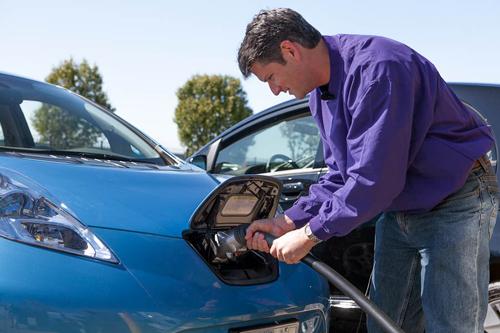 According to the Union of Concerned Scientists, a nonprofit group intent on "solving the planet's most pressing problems," less than 1 percent of U.S. motorists drive electric vehicles, despite that 65 percent think EVs are an important part of our transportation future. Long commutes, range anxiety and just plain habit are preventing most people from investigating whether an electric vehicle would work for their family. Apparently, however, there are fewer hurdles than most people think.
A new UCS survey reports that an EV would fit the lifestyles of 4 out of 10 households, requiring little change in driving habits. The organization randomly surveyed 1,004 adults about their driving and parking routines and found that 42 percent of car owners met the basic criteria for daily use of a plug-in hybrid EV, like the Chevrolet Volt. Half of those households could comfortably own a traditional EV, like the Nissan Leaf.
The survey used the following criteria for the suitability of a plug-in hybrid: having access to parking and an outlet at home and work, not needing to carry more than four occupants in the car and not needing to haul or tow anything. For EV suitability, the survey criteria expanded to include a maximum weekday driving range of 60 miles and access to another vehicle if typical weekend driving exceeds that.
So what's preventing 42 percent of U.S. households from jumping on the EV bandwagon? The UCS cites cost as an issue, though prices of EVs are going down and government tax incentives help ease the sticker shock, though getting the credit can be tricky. To the USC, however, the cost of not adopting widespread EV usage is high. According to the organization, if everyone who could switch to driving on electricity did so today, the nation would:
Save 15 billion gallons of gasoline each year, more than all the gasoline consumed last year by the entire state of California.
Avoid 89 million metric tons of greenhouse gas emissions each year, equivalent to removing 14 million of today's gasoline cars from the road a year.
Save $33 billion on fuel each year — based on gas prices of $3.60 per gallon and electricity costs of 12 cents per kilowatt hour.
So, why do you think drivers are reluctant to kick the gas habit? Tell us below.
Related
Study: Most Clueless About Electric Vehicle Subsidies
2014 Chevrolet Spark EV Starts Under $20K After Federal Tax Credit
More Electric Vehicle News