What Does This Button Do?
Lights?! Camera?! Action?! No, the camera this button is referring to isn't an invitation to the director's chair, but it's still pretty cool. The Hyundai Equus is equipped with an around-view camera system, activated via a console-area button.
Hyundai's luxury sedan was refreshed for 2014 with updated exterior styling and a revised interior. Several premium convenience features were also added this year. One is a multiview camera system, but this is no ordinary backup camera.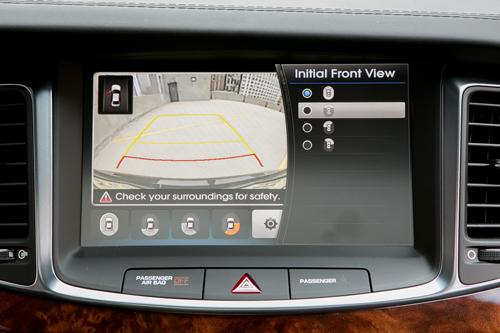 Standard on the uplevel Ultimate trim (which starts at $68,920, including destination), the new multiview camera system "provides an aerial view of the vehicle with split-screen vehicle perspectives for optimized visibility and safety," Hyundai said in a statement. We've seen similar systems in Land Rover and Infiniti vehicles, but this was my first exposure to this type of system in a Hyundai vehicle.
Not only does it show you a bird's-eye view around the whole car, but you can choose several different front, side and rear angles, toggling between the views using the camera button or the large 9.2-inch touch-screen. Drivers can even choose to have two different views shown on the screen.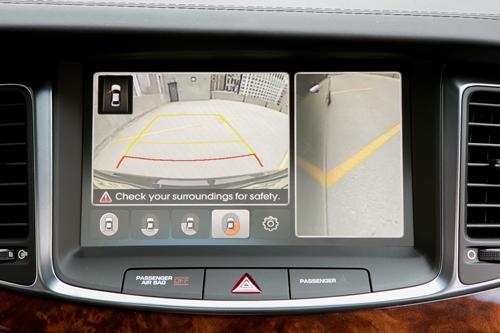 The images are displayed when the car is in Park and also when the car is moving at speeds less than around 10 miles per hour. I found the system very useful when parking, in both the garage and the street. The only problem is that now there's absolutely no excuse for that parallel parking tap or curb job!
Related
Research the 2014 Hyundai Equus
More What Does This Button Do Posts
More Hyundai News