2014 Audi R8 Lands at Dealerships as 'Iron Man 3' Readies Launch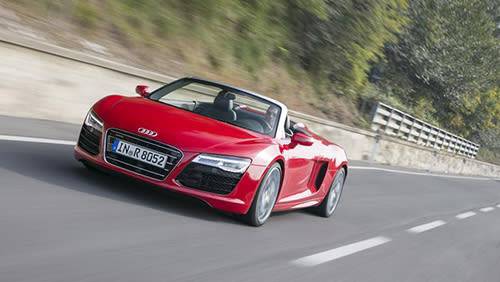 The "Iron Man" movies have an uncanny ability to make you wish you could walk in another man's shoes — or fly in the super suit of "genius, billionaire, playboy, philanthropist" Tony Stark. While it's unlikely Iron Man suits will be available at Men's Wearhouse anytime soon, you can at least drive the same car as Robert Downey Jr.'s Stark. The all-new 2014 Audi R8 went on sale April 11 and will be prominently featured in the upcoming "Iron Man 3."
You don't have to have billions to get your hands on this high-performance luxury sports car, but you will have to have an abundance of disposable income. With Audi's seven-speed optional S tronic transmission, the V-8 coupe starts at $125,250, the V-10 at $161,550 and the V-10 Plus at $180,895. The Audi R8 Spyder roadster with the V-8 and S tronic transmission starts at $138,750 and the V-10 at $175,050. All prices include a $1,250 destination fee but exclude a $3,000 gas guzzler tax.
The S tronic transmission — which improves the 550-horsepower V-10 Plus coupe's zero-to-60 mph time by 0.3 seconds to 3.3 seconds for a top speed of 196 mph — adds $9,100 to the price of the R8 with the standard six-speed transmission. Audi said the new transmission also makes gear shifts smoother and increases efficiency. Inside, the 2014 R8 gets interior flourishes fit for a filthy-rich superhero, including diamond-stitch leather seats and a flat-bottom, multifunction steering wheel.
It's not surprising that Stark, a clean-energy innovator, opts for the all-electric R8 e-tron sports-car prototype in "Iron Man 3," out May 3. His girlfriend and Stark Industries CEO Virginia "Pepper" Potts (Gwyneth Paltrow) drives the Audi S7 Sportback. Although Stark rocked an Acura NSX prototype in last year's "The Avengers," the "Iron Man" series itself has generally remained faithful to Audi; the Q7, S5, A8 and R8 Spyder have made cameos in previous installments.
"This is a strategic collaboration for us," said Loren Angelo, general manager of brand marketing for Audi. "Similar to the position of the R8 as an innovation leader, Iron Man's character consistently evolves throughout the trilogy as he masterminds new trends in technology and engineering."
Related
Audi To Debut 2014 R8, RS 5 Cabriolet at 2013 Detroit Auto Show
Research the Audi R8
Superman Kia Optima Hybrid: Photo Gallery