2014 Bentley Flying Spur: First Look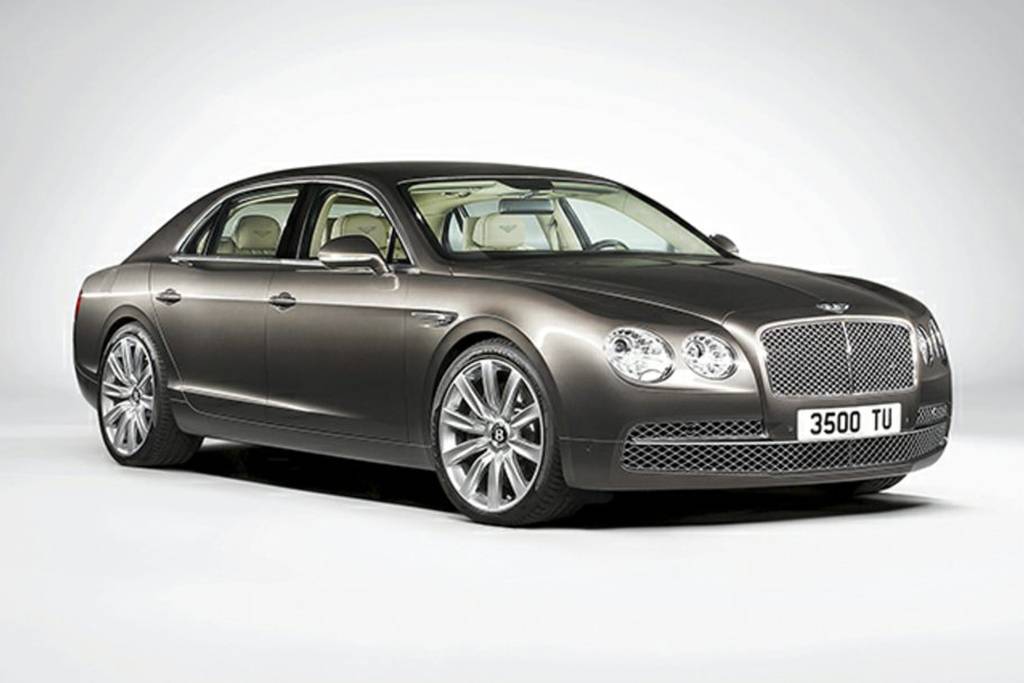 Competes with: Rolls Royce Ghost, Mercedes-Benz S65 AMG
Looks like: An updated "entry-level" Bentley, with cues from the Mulsanne
Drivetrain: 616-hp, twin-turbocharged 6.0-liter W-12, eight-speed automatic transmission, standard all-wheel drive
Hits dealerships: This spring
Bentley has updated the sedan version of its Continental coupe, dropping the Continental name and simply calling it the 2014 Flying Spur. The move makes the Flying Spur its own line that's separate from the Continental coupe, and it makes sense given the significant styling departures from the recently refreshed 2013 Continental. Power comes from a standard twin-turbocharged 6.0-liter W-12 engine now making a whopping 616 horsepower and 590 pounds-feet of torque. That's more powerful than the outgoing Flying Spur Speed model, and the automaker says it's the most powerful motor ever fitted to a Bentley sedan. That power is funneled through a ZF eight-speed automatic transmission with a 40/60 rear-biased torque split for the full-time all-wheel-drive system. It rockets the big sedan to 60 mph in just 4.3 seconds — a 0.3 second improvement over the outgoing sedan — and brings the Flying Spur to a top speed of 200 mph.
The sedan receives a significant refresh inside and out but still keeps traditional Bentley styling cues. The four-element headlamps and the double cockpit interior should look familiar; they join new features like the Bentley Flying B in the fender ornaments and oval-element taillamps that match the shape of the exhaust tips. The more formal profile and details such as larger outboard headlamps versus the coupe's larger inboard ones are meant to set the sedan apart from the coupe. A dizzying array of colors are available for both paint and trim, with 14 colors available for the leather interior alone and 17 exterior paint colors.
The automaker is upping the connectivity content as well, outfitting the Flying Spur with a host of new systems. A central 8-inch touch-screen controls everything and includes satellite navigation, Bluetooth connectivity and voice activation. An eight-speaker audio system is standard, with an optional 1,100-watt premium system that features separate subwoofers. Rear passengers (in either the four-place or five-place configuration) get a new Touch Screen Remote function that electrically folds out from the center console to allow climate control, seat heating and ventilation, and even the navigation and multimedia systems.
For customers who spend more time being driven than driving, a new Multi-Media Specification option includes the new Bentley Connectivity Unit that acts as a mobile Wi-Fi hot spot. Displays include two 10-inch LCD screens in the front seatbacks connected to media players that stream content from DVDs, SD cards, USB devices or HDMI connections.
Pricing for the super-luxury sedan has not yet been announced, but the outgoing model starts at $184,000 and stretches past $200,000 for the top-of-the-line Speed models. Scheduled to be unveiled at the Geneva Motor Show in March, the car will go on sale immediately afterward.
Related
Research the Bentley Continental
More Bentley News on Cars.com
More Luxury Car News on Cars.com