2014 Cadillac CTS at the 2013 New York Auto Show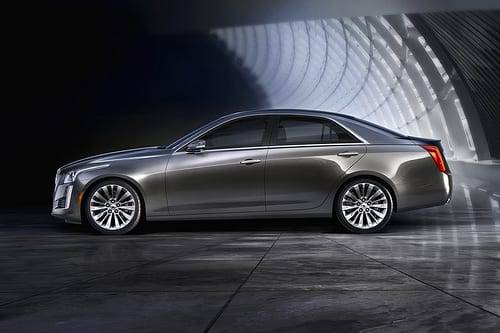 &&&&&EMBEDDED_ELEMENT_START&&&&& {"id":1420668704744,"originalName":"2015_03_04_17_06_39_215_http___blogs_cars_com__a_6a00d83451b3c669e2017ee9a02569970d_800wi","name":"MMS ID 55582 (created by CM Utility)","URI":"/54/-2054318813-1425510399754.","createDate":"2015-03-04 05:06:39″,"metadata":{"AUTHOR":"automatic-content-migration","KEYWORDS":""},"href":"https://www.cstatic-images.com/stock/1170×1170/54/-2054318813-1425510399754.","description":"Came from https://www.cars.com/.a/6a00d83451b3c669e2017ee9a02569970d-800wi","externalid":"55582″,"updatedby":"cmuadmin","updateddate":1425511642496,"associations":{}} &&&&&EMBEDDED_ELEMENT_END&&&&&
Competes with: Mercedes-Benz E-Class, BMW 5 Series, Audi A6
Looks like: A stretched Cadillac ATS with some Mercedes-Benz roofline elements
Drivetrain: 2.0-liter turbo four-cylinder, 3.6-liter V-6 or a new 3.6-liter twin-turbo V-6 making 420-hp, mated to a six-speed or all-new eight-speed transmission
Hits dealerships: Fall 2013
Cadillac has pulled the wraps off of its third-generation CTS sedan at the New York International Auto Show, revealing a longer, lower and wider machine that more solidly pits the CTS against its midsize rivals like the Mercedes-Benz E-Class and BMW 5 Series. Like both of those Germans, the Cadillac remains rear-wheel drive, but unlike the Germans, Cadillac will not immediately offer a V-8, instead opting for a brand-new twin-turbocharged version of GM's 3.6-liter direct-injected V-6. It'll be its top engine choice — at least until the CTS-V is revealed.
More 2013 New York Auto Show Coverage
Styling is evolutionary, a further refinement of Cadillac's now decade-old "Art and Science" theme that continues to improve with each generation. The creases and angles that marked the first two generations have been softened considerably. The new CTS features the best proportions yet in a modern Cadillac, with a long, low hood and distinctive character lines that start at the front bumper and continue unbroken to the rear. It's a full 5 inches longer than the old one, with a 1-inch extension in the wheelbase for a bigger interior.
Under hood is where most of the biggest changes have taken place. The base engine is the most popular engine in the smaller ATS — a 2.0-liter turbocharged four-cylinder making 272 horsepower and 295 pounds-feet of torque, good for 30 mpg highway in rear-wheel-drive models (all-wheel drive is an option). The midlevel engine is the familiar 3.6-liter V-6, making 321 hp and 275 pounds-feet of torque. The top trim engine is a new twin-turbocharged version of the 3.6-liter V-6, making a hefty 420 hp and 430 pounds-feet of torque. For both V-6 models, rear-wheel-drive versions come with a new eight-speed automatic transmission, while the all-wheel-drive non-turbo V-6 comes with the six-speed (the twin-turbo V-6 is not available with all-wheel drive).
The twin-turbo engine comes with a new trim level. The Vsport is meant to bridge the gap between the 321-hp, 3.6-liter V-6 and the fire-breathing 556-hp, supercharged V-8 CTS-V. The Vsport will feature 18-inch wheels, a quicker steering ratio, Brembo brakes front and rear, a Track mode for the transmission, a heavy-duty cooling system, an electronic limited slip differential and Cadillac's Magnetic Ride Control active suspension.
Inside, Cadillac is taking its customization to new levels. No fewer than eight different color schemes will be available, with trim featuring real wood, real aluminum or real carbon fiber. All of that trim can also be swapped out by the dealer, allowing for an even greater level of personalization by customers. The Cadillac User Experience infotainment system is standard on all models, featuring a capacitive touch-screen setup that still leaves us with mixed feelings.
The real story with the new CTS, however, is weight control. Cadillac claims that at around 3,600 pounds, the CTS will be the lightest midsize luxury sedan in its segment, which is no small feat considering it is longer than either the Mercedes-Benz E-Class or BMW 5 Series. Cadillac says that at this weight, the 2.0-liter rear-wheel-drive CTS is 200 pounds lighter than the BMW 528i and that the top-level twin-turbo CTS is about 357 pounds lighter than a BMW 550i twin-turbo V-8 — and more powerful too. Extensive use of aluminum in the new CTS is part of the reason — all four doors, the shock towers, bumper beam, engine cradle, front suspension links and brake calipers are all made from the lightweight metal, resulting in a car 7% lighter than the outgoing model despite being substantially bigger.
The new CTS is slated to go on sale this coming fall.