2014 Cadillac ELR Starts at $75,995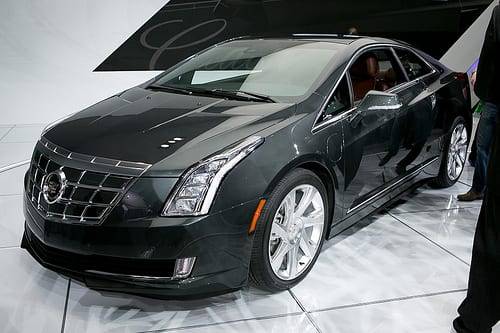 You may save some cash on gas by buying Cadillac's extended-range electric vehicle, but you'll have to shell out a lot of money to get one. When the 2014 ELR goes on sale this January, it'll start at a hefty $75,995, including a $995 destination charge.
The gas-electric coupe is GM's second application of its extended-range electric vehicle platform, following the Chevrolet Volt. Cadillac says the ELR will have an approximate 35-mile electric-only range before the 1.4-liter four-cylinder range-extending motor kicks in, putting total range at more than 300 miles and its fuel-economy rating at 82 mpg-equivalent. It can be recharged in about 12 hours on a household 120-volt outlet or just over four hours at a 240-volt (Level 2) charging station.
Although it shares components with the Volt, the ELR's interior is much more luxurious with standard leather and wood trim. Other standards include the Cadillac User Experience multimedia system with navigation, LED head- and taillights, lane departure warning and forward collision alert systems, and the Safety Alert Seat.
Despite its upscale looks and finishes, the price seems high since its extended-range Volt sibling starts at $34,995, including destination. GM says the ELR's actual price will be much lower, however; tax credits of up to $7,500 could bring the price to $68,495, including destination.   
ELR sales in major U.S. cities start in January; no word yet about its availability in other markets. According to GM, ELR dealers have to be specially trained and certified to sell and service the car.
Related
2014 Cadillac ELR at the 2013 Detroit Auto Show
Talkin' 'Bout Regeneration: Cadillac ELR Lets Driver Harness Power
2014 Cadillac ELR: Up Close