2014 Detroit Auto Show: Concept Cars Winners and Losers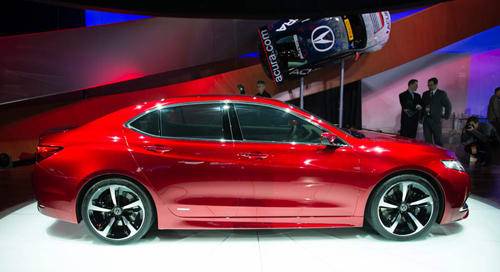 Though the 2014 North American International Auto Show in Detroit isn't flush with new concept vehicles, we managed to find a few — some full-blown concepts, a near-production prototype and one that claims to be one but isn't even a concept. Here our editors pick the winners and losers from this show.
2014 Detroit Auto Show: Production Cars Winners and Losers
Acura TLX Prototype (above)
Joe Wiesenfelder: Loser
Sorry, kids, but this isn't a prototype. It doesn't have an interior, which means it's barely a concept car. To my way of thinking, we can't judge a replacement for the TSX and TL — two different-sized current models — without getting inside.
Aaron Bragman: Loser
C'mon already, Acura, get rid of the damned beak. That metal prow up front that makes the thing look like it needs an orthodontist has to go. The rest of the car looks tepid but inoffensive, like an ILX XL. It might keep Acura fans happy, but it isn't likely to draw in anyone new to the brand, not when you've seen the new Mercedes-Benz C-Class.
Joe Bruzek: Winner

Acura didn't reinvent the wheel or debut an all-new design language with the TLX's looks. What it did is finally take its weird "Shield" idea and make the TLX look as good as possible, and I think it works. Behind the beak is an attractive, chiseled sport sedan.
Mike Hanley: Winner

Acura slimmed down the TLX's headlights compared to the larger RLX sedan, and it works to good effect. The shield-style grille still isn't my favorite, but when you get past that, the car has some great lines, particularly in profile.
JW: Winner

There's no shortage of these little car/wagon/crossovers out there, and I'm not sure the market can support them all. I also remain skeptical of plug-in hybrids, and I suspect Audi would be better off with regular hybrid or conventional engines only. But this one looks really good to me in ways some of the other little oddball cars don't: It's tight and cohesive.
AB: Winner

Funky. This is an interesting conglomeration of a near-future hybrid powertrain, materials science and corporate design. I'm not sure the world would ever need a compact two-door all-terrain 408-horsepower hybrid CUV, but if it ever does, Audi's got a nice idea ready to go.
JB: Winner

The concept's closeness to production quality sold me. The Allroad Shooting Brake looks ready to roll into dealerships, minus the hybrid-denoting "e-tron" graphics and maybe 100 or so horsepower.
MH: Winner

The knock against Audi design is that its cars look too similar. The family resemblance is strong throughout its entire lineup, but the crisp, tidy lines look good to my eye, this concept included.
JW: Winner

Unlike the car above, this one doesn't work as a whole, but there are aspects I like, including the prominent rear haunches, glowing 3-D logo under glass above the rear bumper and the ladder-style A-pillars through which you could presumably see pedestrians. (Anything that aids visibility in this era of aerodynamic car shapes is welcome.) And yes, I'd welcome a rear-drive Kia sports car.
AB: Winner

This thing looks like fun, and it's obvious that Kia is deeply interested in reaction to it. Some elements would never make it to production, like the headlights located where the front bumper needs to be, but as small, rear-drive sports cars go, this one looks like it would smoke the Scion FR-S and Mazda Miata.
JB: Winner

The simplicity of the GT4 Stinger's interior is rare for a sports car concept. Lacking fancy materials, carbon-fiber trim or extravagant technology on the inside is perfect for a pure and simple sports car concept. It's the purity and dedication that's appealing here. Oh, and 315 hp.
MH: Winner

Kia's photos of the GT4 Stinger made it look like a big sports car, but it's not; its compact dimensions are on par with those of the Scion FR-S. The front-end design is a bit odd with the lighting elements so far removed from the grille, but overall this concept really impressed.
JW: Winner
Mini had me with the unpainted sheet metal look. It's covered with clearcoat, but it harks back to prewar Mercedes racecars that were stripped of their paint in a claimed attempt (later exposed as apocrypha) to save weight — the weight-lightening movement gone extreme. Beyond that, my hope is the new suspensions will make the JCW ride more comfortably.
AB: Loser
This is not a concept car. This is a "noncept" car, a car that's called a concept but is quite obviously a precursor to the actual production vehicle. At least Acura called its a "prototype," which I can live with. I dig the unpainted metal look, and the scoops, strakes, stripes and flares are all acceptable on a John Cooper Works model, but as concepts go, this just doesn't fit my definition.
JB: Loser
I've seen this paint job before. It's what happens to a car after a year in the Cars.com long-term fleet. The JCW's imitation brushed aluminum paint looks like it was driven through a patch of bushes at 100 mph.
MH:Loser
I appreciated the unique exterior finish but not the car's numerous cartoonish design cues. I mean, five intake vents below the grille? Really? Previous JCW models have had a hard-edged driving experience. If the new one does, too, the styling needs to be a little more menacing and less chipper.
JW: Loser
Even for a true concept car, this thing is too busy. I see some Mazda and some Lexus, which wouldn't be terrible if the result weren't such a mishmash. People will definitely notice it, but I don't think they'll leave satisfied.
AB: Winner
I like where Nissan is going with this concept, a preview of what is likely to replace the Maxima in toned-down form. It's an exit off the highway of increasing sameness that everyone's following in the midsize sedan category, yet follows Nissan's design language — and the interior looks absolutely dynamite.
JB: Winner
The Maxima's bold design has a winning aspect somewhere, but I agree with Wiesenfelder in that it's busy. Perhaps the overall profile makes it to production, or maybe the aggressive front styling. Anything, really, would be an improvement over Nissan's current sedans.
MH: Winner
The design is busy, no doubt, with numerous lines playing out everywhere you look. However, I like how Nissan's new corporate grille works on this sedan; it has a distinctiveness that's sorely lacking in Nissan's sedan lineup.
JW: Winner
I want two things from a concept car, especially a sports car: for it to look good and look different. A few cues might look familiar, but people will see this thing and know it's something they've never seen before. It's harder than ever for auto designers to accomplish that —even under the loose restraints of concept design.
AB: Winner

Can it be? A sexy Toyota? I'd almost given up hope of ever finding a new Toyota that I'd consider to be desirable (let's face it, kids don't pin posters of Corollas to their wall), but the FT-1 looks outstanding. There's some final-generation Mazda RX-7 in the shape, which is not a bad thing. Taut, sharp and menacing, this looks fantastic. Build it.
JB: Winner

Yes, please. Toyota said to use your imagination to envision what's under the hood because an official power plant hasn't been named yet. I'll take an FT-1 with a V-8 derived from the Lexus LFA V-10 engine, saddled with a few small turbochargers; also, let me row my own gears.
MH: Winner

The protruding nose is a bit jarring but I like everything else about this concept. From its exotic lines to purposeful design cues like a powered rear spoiler, the FT-1 is about giving Toyota some much-needed performance cred, and it's wildly successful on that front.
JW: Loser
I should just have some prepared text ready to paste into these documents every time Volkswagen makes a concept out of a Beetle. Sometimes it works to do cartoony things with a car, but when the car started out cartoony, it doesn't work. And I don't think the skis on the back counter the fact it's called a Dune. Sand dune? Yes. Snow dune? Never heard of it.
AB: Loser
I don't get it. So VW's formula to make a modern sand dune jumper is to take a turbo Beetle, bump it up only 2 inches, give it tires that fill the wheel wells so it would never survive off-road, leave the front-wheel drive, make the track wider and glue some skis (skis?) to the rear of it. It's like VW had a few hundred bucks left over at the end of 2013 and decided to just throw some stuff together to make a concept car. Lame.
JB: Loser
Volkswagen didn't go far enough. Rather, take today's very groomed and proper Beetle and flare the fenders, add legitimate off-road tires, jack up the suspension, throw on a few auxiliary fuel tanks and jump some dunes. That's something worthier of the classic dune buggy moniker.
MH: Loser
Wiesenfelder nailed it. It seems Beetle-based concepts that aren't far removed from the production version are becoming an annual auto show tradition. It's getting old.
JW: Winner

People in my line of work tend to like wagons and wagonlike body styles. This one isn't as cohesive as the Audi Shooting Brake Concept, but I'm intrigued by the narrow headlight slits, big grille and the return of the odd rear shape that disappeared with the C30 hatchback. In a real product it would limit visibility and interior space, but in the concept I'll take it.
AB: Winner

Interesting to have two similar yet unusual concepts at the same show, but I have to say I like the Volvo better than the Audi. It's less advanced than the Audi Shooting Brake Concept, but definitely sexier in my view. It looks like a great next step for Volvo styling, keeping things modern and cleanly Scandinavian while adding more interest to the shape. Gives me hope for the production XC90.
JB: Winner

I also prefer the Volvo wagonlike concept over the Audi wagonlike concept. The Volvo has a more interesting shape and a design we haven't seen from Volvo before, at least in one car. The XC CoupÇ is almost like the C30 hatchback hooked up with an XC70 wagon after a ski and spa weekend in Aspen.
MH: Loser
This didn't elicit any strong feelings, and for a concept car that's a problem. The incredibly bland white and gray color scheme is part of the reason, but we've seen this general shape before in the now-discontinued C30.