2014 Ford Fiesta EcoBoost SFE: Quick Drive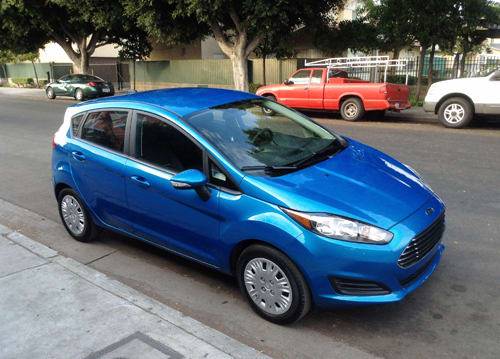 Cars.com reviewer Kelsey Mays and I recently went for a quick spin in a 2014 Ford Fiesta equipped with the new turbocharged 1.0-liter three-cylinder engine, which boasts EPA gas mileage ratings of 32/45/37 mpg city/highway/combined. It is the latest of a trio of gas-only models hitting the market that nip at the heels of hybrid cars. The EcoBoost Fiesta proves remarkably drivable … if you don't mind adjusting how you operate its five-speed manual transmission.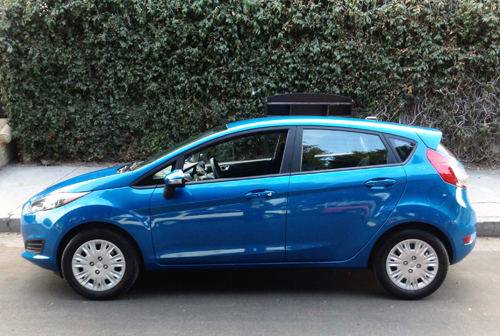 Lest you skimmed past the proportions, this car has a 1.0-liter engine with three cylinders, which is crazy small. It is turbocharged, however, which gives it more power and torque than the regular Fiesta engine, a 1.6-liter four-cylinder, no turbo: The EcoBoost produces 123 horsepower and 125 pounds-feet of torque (and a momentary 148 pounds-feet with turbo overboost), versus the 1.6-liter's 120 hp and 112 pounds-feet.
Though the EcoBoost engine brings more power and provides peak torque at a low 2,500 rpm, it's not as quick as you might expect, mainly because the only transmission, a five-speed manual, is geared for efficiency. The engine is stout enough not to stall too easily when you take off from a stop, but it does require more clutch slippage than I've come to expect with today's five- and especially six-speeds. Once you're in motion, you quickly know why: It's a super-tall 1st gear, and you'll want to stay in it longer than usual to tap into the power. The tall ratios continue from there, as you can hit 60 mph in 2nd gear.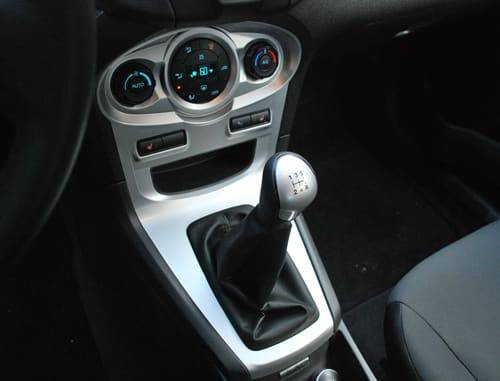 In most cars, 1st gears exists solely to get you moving and into 2nd, but when I drove around city streets in the EcoBoost Fiesta, I found myself actually driving in 1st occasionally, and even downshifting into 1st at times to round a corner.
The car definitely has power in reserve, which is a benefit over the other two gas-only fuel misers, the 2014 Mitsubishi Mirage (rated a maximum of 37/44/40 mpg) and the 2014 Nissan Versa Note (rated 31/40/35 mpg, max). While both of these models offer a stick shift, the more efficient EPA estimates cited above come with optional continuously variable automatic transmissions.
We've driven these competitors, and neither is particularly quick. They were adequate for commuting the flatlands of Illinois, but acceleration suffered dramatically when the cars were full of people or cargo. The most we had in the Fiesta was three occupants, and it responded reasonably well when the engine was allowed to rev.
The Fiesta is no luxury car, but it definitely felt more substantial than the Mirage and Note — and one could argue it is: It weighs 2,552 pounds in hatchback form. The Note is at least close at 2,460 pounds. The Mirage is a remarkably light 1,973 pounds, making it the lightest car on the market. It's good for efficiency, but a full cabin leaves the wee 1.2-liter three-cylinder outmatched.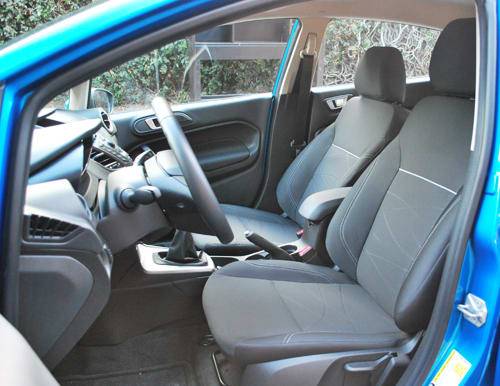 The Fiesta also offers better ride quality and handling than the other two, but it's snugger. The Mirage has 1 cubic foot more cabin volume and 2.8 inches more backseat legroom. The Note's passenger space is cavernous, with 9 more cubic feet and 7.1 more inches of backseat legroom over the Fiesta.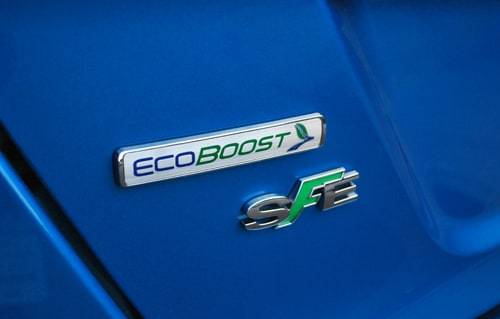 Ford kindly offers the EcoBoost Fuel Economy Package as a $995 option on the middle trim level, the SE. The badge on the tail in fact has a traditional SE with a big green "F" wedged in the middle. (SFE is Ford's term for Super Fuel Economy, as used on other models as well.) The resulting starting price with destination charge is $17,240 for a Fiesta SFE sedan and $17,840 for the hatchback.
With the optional CVTs, the Mirage DE starts at $14,790 and the Versa Note S Plus at $16,050.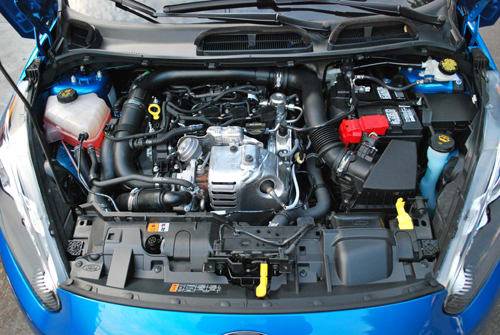 In some ways the Fiesta SFE is a throwback to the old days when the most efficient cars came with drivability tradeoffs. Driving the car as geared requires more effort than usual, but in this case the sacrifice comes with a bigger upside in the form of ultra-high mileage estimates. Unlike the old days when the most efficient versions were the cheapest, much of the Fiesta SFE's capabilities come from modern engine technology, accompanied by a higher price. I suspect it will appeal mainly to devoted fuel misers rather than the average Fiesta buyer. But it's great to see these numbers in a non-hybrid, and we expect more to come.
Related
Research the 2014 Ford Fiesta
2014 Ford Fiesta Expert Review
2014 Ford Fiesta Video