2014 Ford Fiesta Gets Fuel-Economy Boost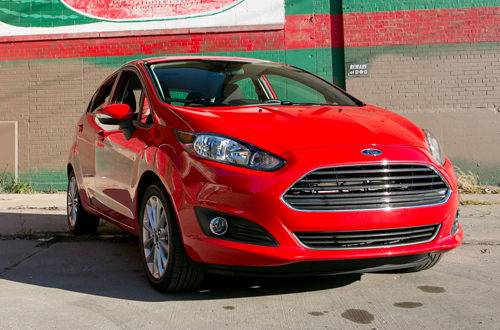 Ford's smallest car is getting a tiny new engine that packs a big fuel-economy punch. A turbocharged 1.0-liter EcoBoost three-cylinder engine is joining the Fiesta lineup midyear, and the EPA gave it a 32/45/37 mpg city/highway/combined rating.
The 123-horsepower engine is already available in other countries, but this is its first application in the U.S. Ford calls the 1.0-liter Fiesta "America's most fuel-efficient non-hybrid, gasoline-powered car," but the 75-hp Mitsubishi Mirage is rated at 37/44/40 mpg. However, competitors like the Honda Fit (27/33/29 mpg), Nissan Versa Note (27/36/30 mpg) and Chevrolet Sonic (26/35/30 mpg) all come up short by comparison.
The new engine joins the standard 120-hp, 1.6-liter four-cylinder and optional sport-oriented 197-hp, turbocharged 1.6-liter four-cylinder. Base Fiestas are EPA rated at 29/39/32 with the six-speed dual clutch automatic manual and 27/38/31 with the five-speed manual.
The new 1.0-liter will be available on sedan and hatchback Fiestas in the SE Manual EcoBoost Package with a five-speed manual transmission; the package costs $995 for a total of $17,240 for sedan models and $17,840 for hatchbacks. Base 2014 Fiesta sedans start at $14,795, including a $795 destination fee. The 2014 Fiesta EcoBoost 1.0-liter goes on sale later this year.
Editor's note: The prices in this post were updated on Oct. 30.            
Related
2014 Ford Fiesta Review
2014 Ford Fiesta ST: More Photos
More Ford News