2014 Ford Fiesta ST: First Drive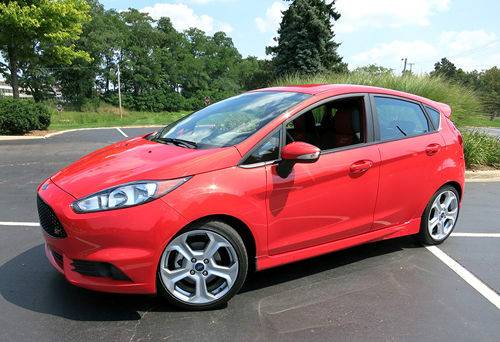 The Ford Fiesta has been a target for buyers looking for a frugal and inexpensive economy car. But it has always been lacking in the horsepower department, with performance best described as "adequate" instead of "entertaining."
All that changes with the car you see here, the 2014 Fiesta ST. If you're one of those performance car enthusiasts who always laments that the U.S. doesn't get the same high-zoot models that the European market enjoys, your prayers have finally been answered. Developed primarily by Ford's Team RS performance vehicle group in Europe with a little help from the American Ford Special Vehicle Team, the Fiesta ST is the hot hatch of the moment, following the arrival of the larger and more powerful Focus ST in the U.S. last year.
The upgrades are significant, starting with the powertrain: a turbocharged 1.6-liter four-cylinder EcoBoost engine making 197 horsepower and 202 pounds-feet of torque, mated to a six-speed manual transmission and directed through the front wheels via a special Torque Vectoring Control system. It's a fantastic little motor, and it pulls the Fiesta ST to 60 mph in just 6.9 seconds, plenty quick for any car but enormous fun in a subcompact five-door hatch.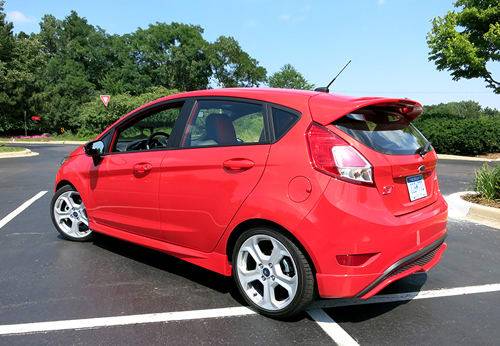 The clutch pick-up point is right off the floor, and the action is light and easy to modulate. The shifter is a bit light as well, but seems precise — my only real gripe is that the shifter lever itself is mounted a little low, needing a bit of a stretch to reach for taller drivers. Despite the added power, fuel economy remains quite good: 26 mpg city, 35 highway, but if you drive the ST per its mission as an entertaining pocket rocket, your results aren't likely to match these figures.
Suspension has been upgraded from the base Fiesta as well, with new steering knuckles with shorter steering arms, springs, shock absorbers and a 15 mm lower ride height. The transformation is outstanding, with the Fiesta now behaving much like a Mini Cooper S or even a Volkswagen GTI instead of a pedestrian economy car.
Cornering is absolutely flat, and torque steer is very well controlled as well – pop the clutch or get on the power in a corner, and there is no dancing steering wheel to be had, unlike the Mazdaspeed3. Just calm, controlled handling with communicative, direct feel. Ford has done a superb job of balancing ride comfort with sporty handling, but the ST is definitely on the firm side. Get onto a stretch of broken pavement, and you'll soon wish you'd made a pit stop at that rest area a few miles back.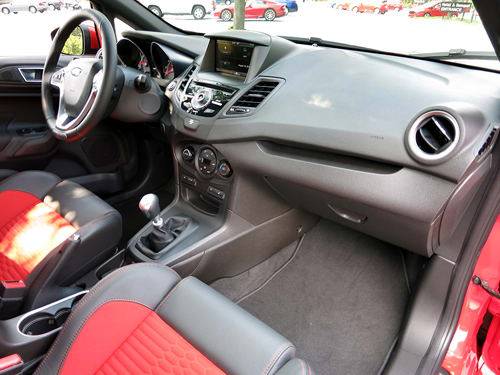 There are larger brake rotors and calipers up front, and disc brakes in the rear – this is also the only Fiesta model to feature discs instead of drum brakes. Brake feel is excellent, with plenty of feedback and no measureable fade, even in aggressive driving. Electronic stability control is standard, and features three modes intended to allow owners to take their cars to track events. You also can circumvent it, if you so choose, leaving your safety to only your driving skills should you decide to be so bold.
Visually, the Fiesta ST is differentiated from lesser models through some extensive body kit additions, a new grille, blacked-out headlights and exclusive 17-inch wheels with summer tires. The look is aggressive and attractive, and the lower stance really sets the Fiesta apart from competitors. Several unique colors are also available, including my test car's Molten Orange metallic, a color that most recently was exclusive to Ford's SVT Raptor pickup truck.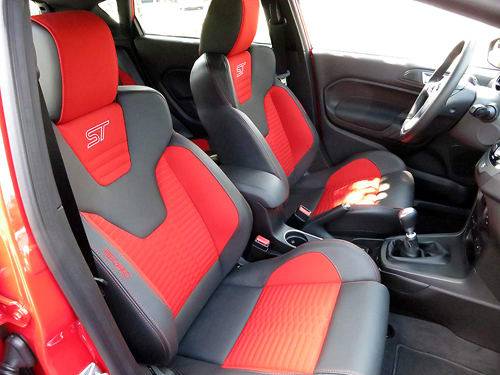 Orange shows up on the inside as well, adorning the optional Recaro sport seats that grace the interior. Heavily bolstered but not heavily adjustable, they won't be to everyone's taste. They're actually more comfortable than the optional Recaros in the more expensive Focus ST, so I found them tolerable (which cannot be said for my experience with Recaro seats in other cars). Other unique bits include a thick steering wheel, shift knob, pedal covers and the inclusion of what Ford calls "Sound Symposer" — a program that pipes snorty engine noises into the otherwise quiet cabin via the sound system. The rest of the interior is standard Fiesta, with fair quality plastics and a touch-screen display high up in the dash that houses the latest generation of MyFord Touch. This latest generation incorporates improvements designed to make it faster and easier to use, and I must admit that it actually worked better than in my past experiences.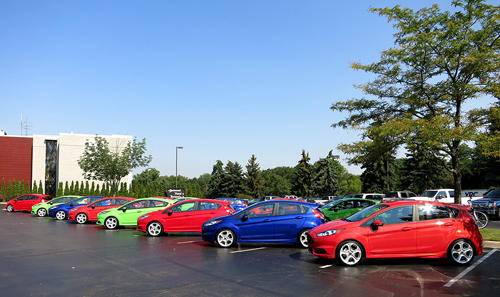 Overall, the ST trim is a fantastic addition to the Fiesta lineup. It's quick, looks sharp, handles beautifully, and if you avoid some of the pricier options, is quite a decent value. Base price for the ST is $22,195, including a $795 destination fee, which is less than a Fiat 500 Abarth, Hyundai Veloster Turbo, Mini Cooper S or just about any other competitor on the market except the much less powerful Chevrolet Sonic RS. Start checking option boxes, however, and things get less wallet friendly — my test vehicle included the Recaro seat package, which includes the aforementioned partial-leather heated sport seats and heated mirrors. It also had navigation and the optional Molten Orange paint, and rang up at $25,580, including destination. This is less of a bargain, as it lands solidly in Volkswagen GTI and Focus ST territory, both much larger cars with equally high standard equipment levels and serious performance credentials. Keep the extras off, however, and the Fiesta ST is a top-notch choice for hot-hatch buyers.
Related
2014 Ford Fiesta Titanium: First Drive
2014 Ford Fiesta ST at the 2012 L.A. Auto Show
Research the 2014 Ford Fiesta on Cars.com