2014 Ford Taurus: Car Seat Check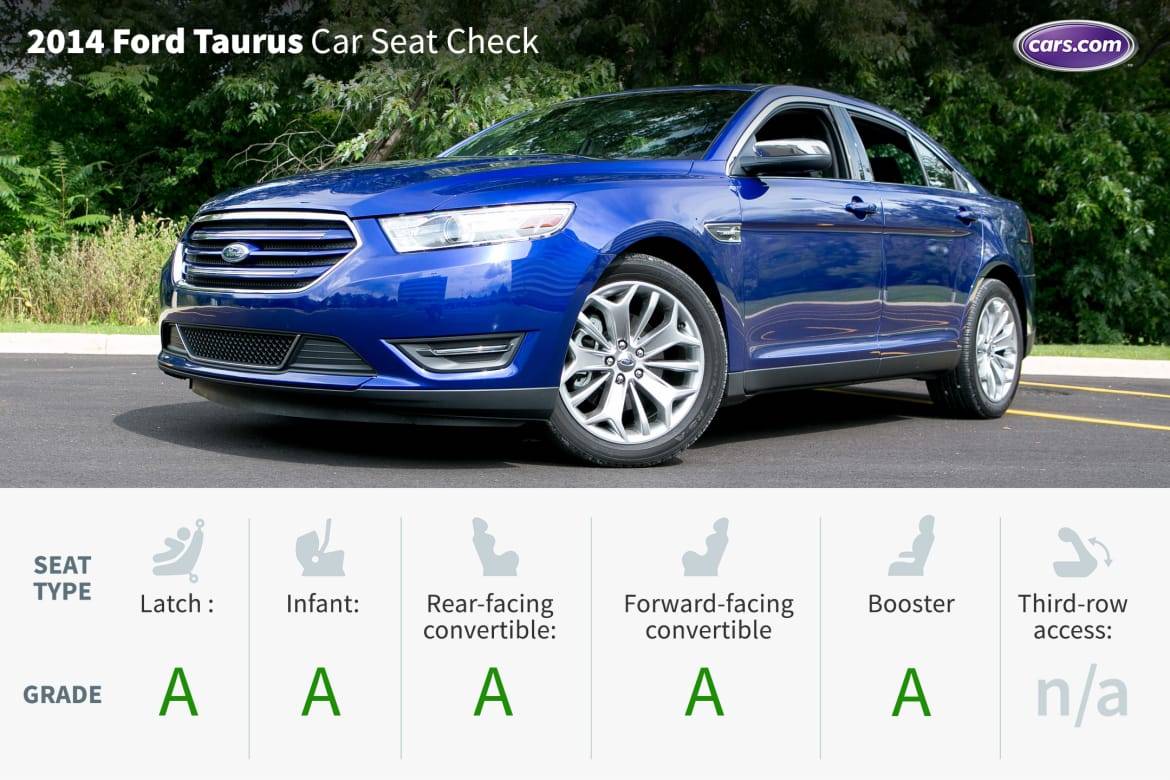 Add the 2014 Ford Taurus to the list of cars that can hold three child-safety seats across its backseat. This full-size sedan aced our Car Seat Check, earning A's in all our fit categories.
Ford has an interesting Latch anchor setup in the Taurus. The two sets of anchors are set more inward than usual in the backseat, allowing a car seat to be installed in the middle seat position with the Latch system. This makes it more flexible than a lot of sedans, but it's important for parents to remember that only one car seat may be installed using one set of Latch anchors — there's no doubling up.
When we installed three car seats in the Taurus, we put the infant seat in the middle and used Latch anchors to secure it. Then we used the seat belt to install the forward-facing convertible behind the front passenger seat. We also used a seat belt with the booster.
How many car seats fit in the second row? Three
What We Like

The Latch anchors are set pretty deep into the seat cushions, but they're easy to access because the seat bottom cushions are pliable.
A flat seat bottom cushion made for easy installation of all the child-safety seats.
Both the rear-facing infant and convertible seats fit easily in the Taurus' backseat. There was no need to move the front passenger seat forward.
What We Don't

Because the Latch system setup is unusual, there's a chance that parents will misuse it and connect two car seats to one Latch anchor. This is dangerous because Latch anchors in any car haven't been crash-tested with two car seats attached to a single anchor.
Grading Scale

A: Plenty of room for the car seat and the child; doesn't impact driver or front-passenger legroom. Easy to find and connect to Latch and tether anchors. No fit issues involving head restraint or seat contouring. Easy access to the third row.
B: Plenty of room. One fit or connection issue. Some problems accessing third row when available.
C: Marginal room. Two fit or connection issues. Difficult to access third row when available.
D: Insufficient room. Two or more fit or connection issues.
F: Does not fit or is unsafe.
About Cars.com's Car Seat Checks
Editors Jennifer Geiger and Jennifer Newman are certified child safety seat installation technicians.
For the Car Seat Check, we use a Graco SnugRide 30 infant-safety seat, a Britax Roundabout convertible seat and Graco TurboBooster seat. The front seats are adjusted for a 6-foot driver and a 5-foot-8 passenger. The three child seats are installed in the second row. The booster seat sits behind the driver's seat, and the infant and convertible seats are installed behind the front passenger seat.
We also install the forward-facing convertible in the second row's middle seat with the booster and infant seat in the outboard seats to see if three car seats will fit; a child sitting in the booster seat must be able to reach the seat belt buckle. If there's a third row, we install the booster seat and a forward-facing convertible.
Parents should also remember that they can use the Latch system or a seat belt to install a car seat.